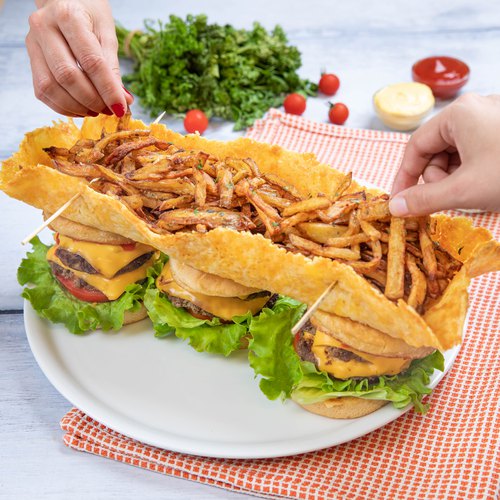 Double Bacon Cheeseburger
For a fun family dinner :)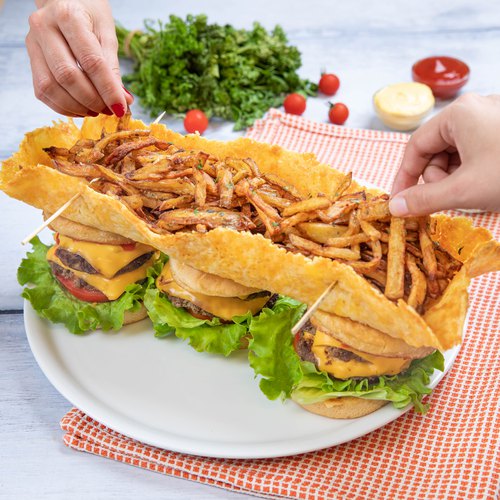 ---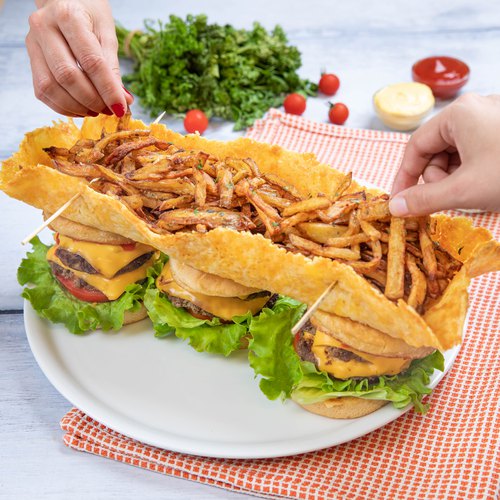 ---
Total time: 45 minutes
Prep time: 20 minutes, Cook time: 25 minutes
Ingredients for 3 people
1/2 cup of butter
3 burger buns
2 1/2 cups of cheddar cheese, grated
1 1/4 cups of emmental cheese, grated
10 oz of frozen french fries
1 1/3 lb of ground beef
6 slices of cheddar
9 slices of bacon
1 jalapeño
---
Tools
Electric griddle
Large glass salad bowl
---
Step 1/3
Cook the frozen French fries according to package instructions (alternatively, prepare homemade fries). Next, pour the melted butter on the electric griddle and toast the burger buns. Spread 1 1/4 cups cheddar cheese and grated emmental cheese on the griddle so that it melts and forms a rectangular cheese crust. Place the 3 burger bun tops upside down on the cheese rectangle, leaving a few inches between each bun. Remove the crispy cheese rectangle from the griddle and place on top of 3 glasses, arranged to line up with the burger buns. Use tongs to secure the corners of the cheese rectangle to make one large basket. Flip the rectangle over and garnish with the fresh French fries. Set aside in the oven to keep warm.
Step 2/3
Form 6 ground ground beef burgers and cook them on the griddle. Coat the bottom part of a glass salad bowl in olive oil, then use the bowl to flatten the burgers. Season with salt and pepper and cook for three to five minutes on each side. Place a slice of cheddar cheese and 2 to 3 slices of grilled bacon on top of each burger. Stack one burger on top of the other to make a double burger pattie.
Step 3/3
Place the double patties on top of the burger bun base. Cover with the burger bun tops and cheese basket filled with fries. Melt the remaining cheddar cheese and pour over the fries. Sprinkle with chopped jalapeño peppers and enjoy!