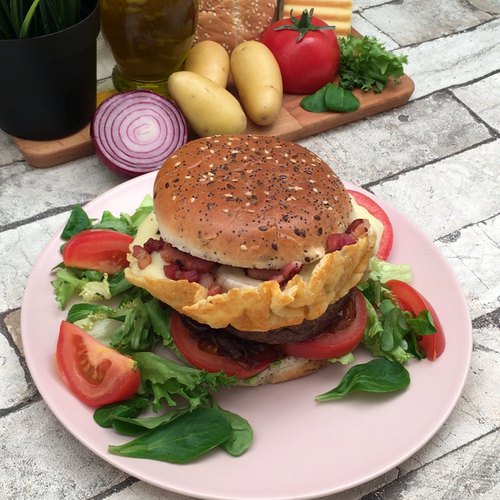 The French Burger
The perfect burger for cold weather!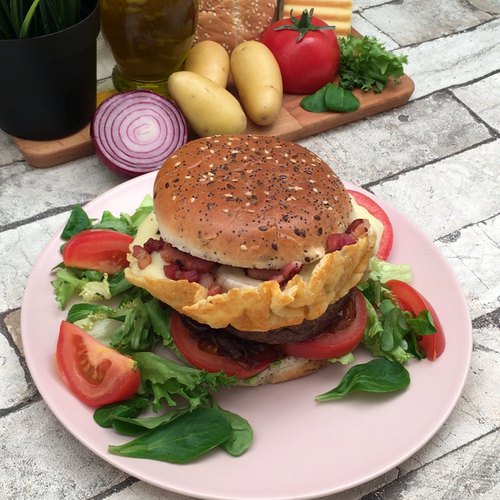 ---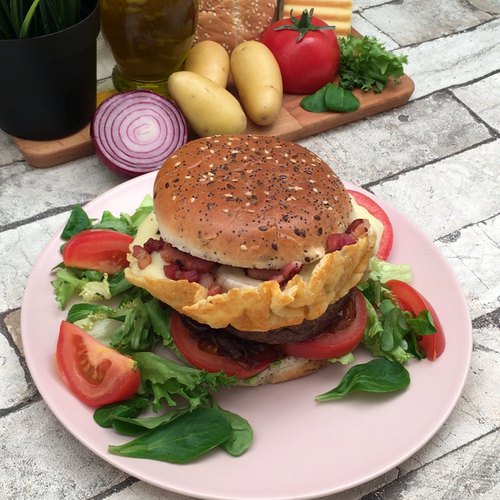 ---
Total time: 1 hour 30 minutes
Ingredients for 4 people
6 potatoes
olive oil
salt & pepper
thyme
1 clove garlic
2 cups of grated parmesan
4 burger buns
lettuce
2 tomatoes
onion marmalade
1 lb of ground beef
20 slices of cheese
1 2/3 cups of diced bacon
---
Tools
Ramekin
---
Step 1/4
Cut the potatoes in half lengthwise and place them in a dish, skin down. Drizzle with some olive oil, and sprinkle with salt, pepper, chopped thyme, and chopped garlic. Bake for 30 minutes at 350° F.
Step 2/4
Cover the bottom of a pan with the parmesan cheese and let it melt to form a disc. Once the disc has melted together and become crispy, flip it to cook the other side. Remove from the pan and shape it around a ramekin. Repeat 3 times.
Step 3/4
Top 3 bun halves with salad, 2 slices of tomatoes, and onion marmalade. Add the cooked ground beef patties. Fill the parmesan ramekins with the cooked potatoes and place them on top of the patties.
Step 4/4
Melt the cheese slices and grill the bacon. Pour the melted cheese on the potatoes and sprinkle with the bacon. Top the burgers with their buns and enjoy!