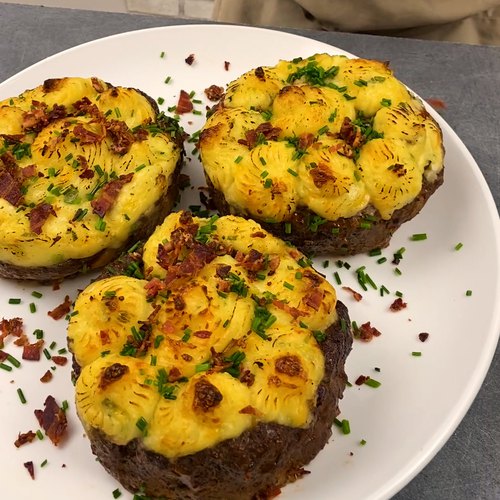 Burger Bowls
Topped with twice-baked potatoes! ❤️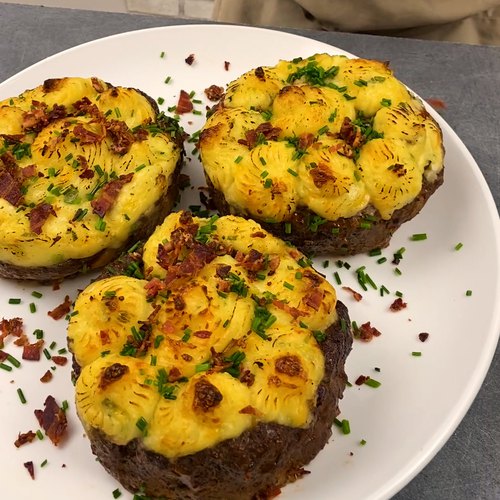 ---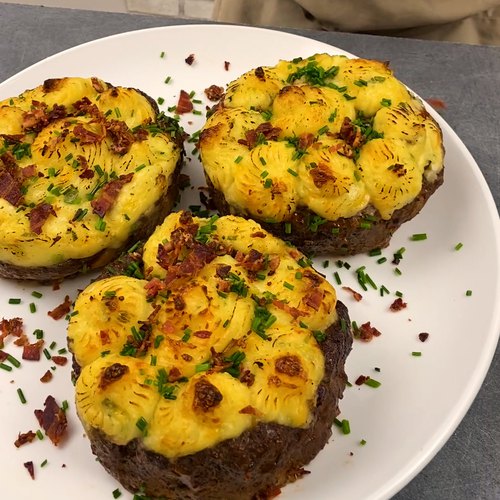 ---
Ingredients for 3 people
olive oil
5 potatoes
salt & pepper
2 lb of ground beef
2 tbsp of worcestershire sauce
1/4 cup of melted butter
1/4 cup of milk
1/2 cup of sour cream
grated cheddar cheese
green onions
cooked mushrooms
vegetable oil
chives
bacon bits
mustard
ketchup
---
Tools
Parchment paper
Cereal bowl
Aluminum foil
Piping bag
---
Step 1/4
Place the potatoes on a lined baking sheet. Sprinkle with salt and pepper, then bake for 1 hour at 350 °F. When the potatoes are ready, cut them in half and scoop out the flesh. Mix the flesh with the melted butter, milk, sour cream, 1/4 cup of cheddar, salt, pepper, and green onions. Fill the piping bag with the mashed potatoes. Set aside.
Step 2/4
In a mixing bowl, mix together the ground beef, salt, pepper, and Worcestershire sauce. Divide the meat into 3 equal parts and form them into balls. Use the bowl as a mold to form the meat into a bowl. Place the meat bowls on a lined baking tray. Create bands of foil and wrap it around the meat bowls. Let chill.
Step 3/4
Cover the bottom of the meat bowls with cheddar cheese, then the cooked mushrooms. Use the piping bag to pipe the mashed potatoes on top of the mushrooms. Bake for 30 minutes at 350 °F.
Step 4/4
Fry the potato skins in hot vegetable oil until golden brown. Once cooked, press down on the bottoms of the potato skins so that the stay standing. When the burger bowls are ready, remove the foil. Garnish with chives and bacon bits. Fill the potato skins with ketchup and mustard. Serve the potato skins with the burger bowls and enjoy!