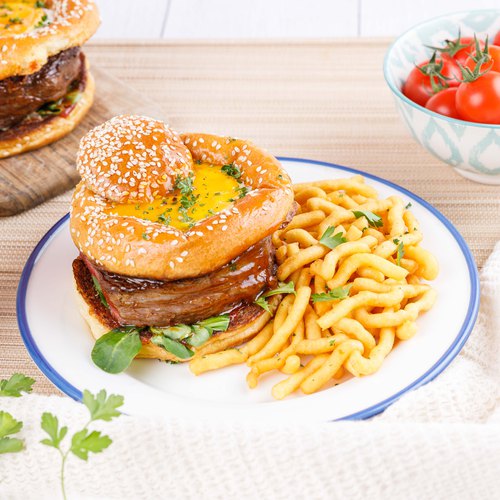 Hamburger On Horseback
Hamburger On Horseback! With perfectly crispy fries 🍟😋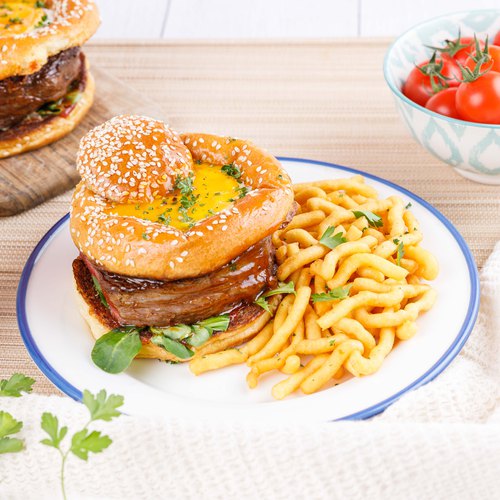 ---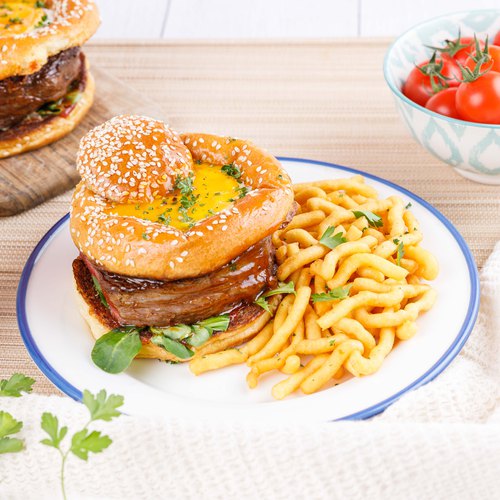 ---
Total time: 55 minutes
Prep time: 35 minutes, Cook time: 20 minutes
Ingredients for 3 people
4/5 lb of potatoes
4/5 cup of milk
2 tbsp of sour cream
1 pinch of salt & pepper
2 tbsp of parsley
3 hamburger buns
2 tbsp of butter
3 egg
3 tsp of ketchup
1.4 lbs of beef
3 1/2 oz of mozzarella
3 slices of bacon
Salad
Frying oil
---
Tools
Circular cookie cutter
Skewers
---
Step 1/3
Peel and cut the potatoes into pieces. Cook them in 1 liter of salted water. Mash the potatoes and mix them with the milk until you get a smooth consistency. Add the sour cream and mix again. Crush the mashed potatoes in a slotted spoon over the frying oil, let them fry for a few minutes to obtain fries. Season them with salt, pepper and parsley.
Step 2/3
Toast the inside of the burger buns on a buttered plancha. Cut out the center of the burger caps using a circular cookie cutter, place an egg in each space of the burger caps and cook for a few minutes. Pour the ketchup over the bases of the burger buns, top with the salad and set aside.
Step 3/3
Spread the beef tenderloin on the work surface, sprinkle it with grated mozzarella, place the bacon slices and wrap the tenderloin on itself to form a roll. Stick 3 skewers horizontally into the roll and cut the roll into 3 using the skewers as a guide. Cook them on a buttered plancha. Place the garnished beef tenderloin steaks on the base of the burger buns and place the tops. Season the eggs in the burger caps, place the circles of the caps. Serve with the fries and enjoy!