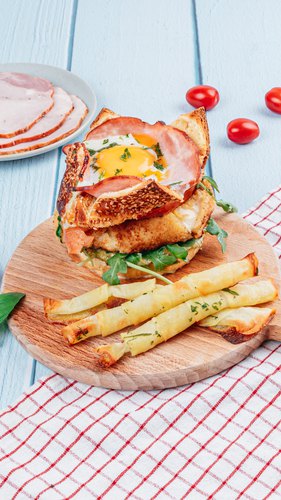 Ham & Mozzarella Burger
Ham & Mozzarella Burger! Impossible to resist this recipe 😋🍔🍟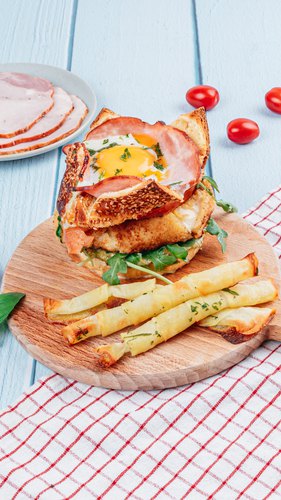 ---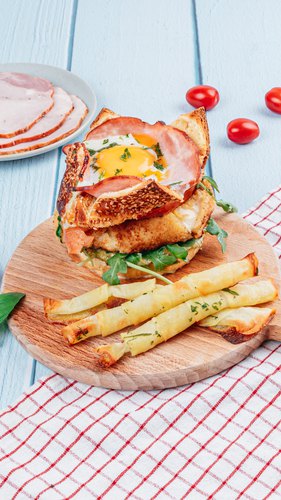 ---
Total time: 1 hour 2 minutes
Prep time: 35 minutes, Cook time: 27 minutes
Ingredients for 3 people
3 hamburger buns
6 slices of pork roast
5 egg
Salt & pepper
Parsley
3 large mozzarella balls
1 yellow zucchini
Flour
4 tbsp of pesto
Salad
1 tomato
2 potatoes
2 tbsp of butter
Breadcrumbs
Frying oil
---
Tools
Straw
---
Step 1/4
Cut the burgers in half. Make a cross-shaped incision on each top of the buns. Carefully open the cuts and add a slice of pork roast in each space. Place the tops of the buns on a baking tray, place 1 egg on each pork roast and bake for 15 minutes at 350°F.
Step 2/4
Cut the yellow zucchini into strips, form a cross with 2 strips of zucchini, cut a slice of roast pork in 2 and place it in the center of the zucchini cross. Place the mozzarella in the center of the crosses and fold the ends of the zucchini strips. Repeat the process to have 3. Coat them with flour, dip them in the beaten egg, coat them with breadcrumbs then fry them in hot oil. Flatten them.
Step 3/4
Peel the potatoes, cut them into thin strips. Overlap the ends of 4 strips and wrap them around a metal straw and place on a baking sheet, repeat the process to have 6. Melt the butter, brush the potatoes with melted butter, season with salt and pepper, sprinkle with parsley then bake for 12 minutes at 350°F.
Step 4/4
Spread the pesto on the base of the burger buns, place the salad, the mozzarella steaks, zucchini and roast pork then add the tops of the buns.Sprinkle with parsley, place the potato straws and enjoy!