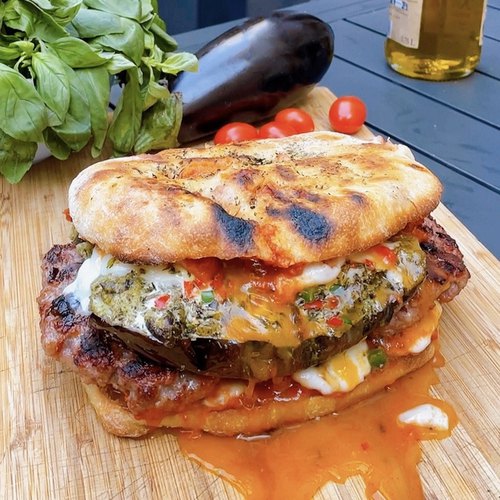 Eggplant Meatball Parmesan Sliders
Eggplant Meatball Parmesan Sliders! Slide into this new BBQ recipe 🍆🥪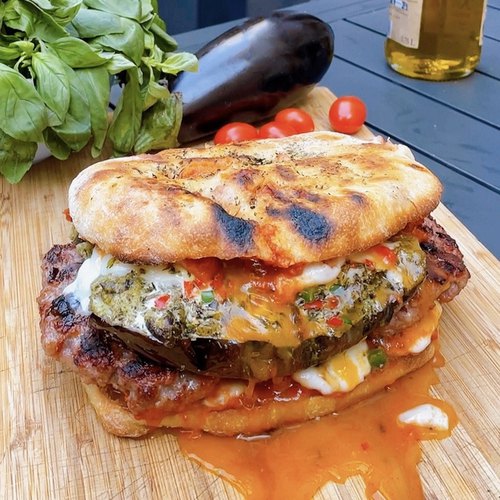 ---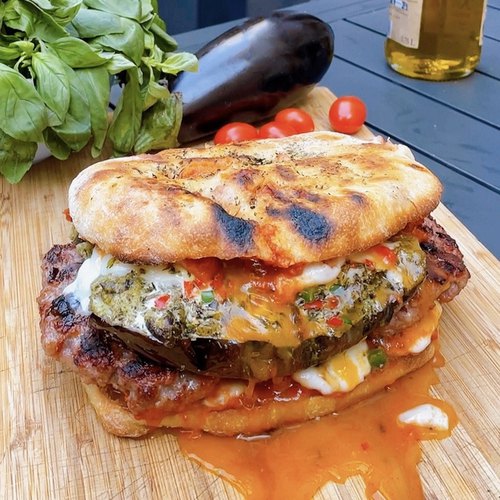 ---
Total time: 35 minutes
Cook time: 35 minutes
Ingredients for 6 people
1 eggplant
5 tbsp of garlic oil
1.3 cups of parmesan
1 cup of marinara sauce
6 basil leaves
4 tbsp of bell peppers
6 hawaiian rolls
1 cup of pesto
2 large mozzarella balls
1 lb of ground beef
2 tbsp of italian seasoning
---
Step 1/3
Evenly coat the eggplant in garlic oil, season with salt and roast on a grill. Make sure to char all sides. Cut lengthwise, open like a book and fill with marinara, pesto, diced bell peppers and parmesan cheese. Continue to grill until the cheese has melted and top with fresh basil leaves.
Step 2/3
Slice the Hawaiian rolls horizontally. Rub both sides with garlic oil and pesto, then tear the mozzarella ball into 6 pieces, evenly distributing it over the bottom half. Grill to melt the cheese and toast the rolls.
Step 3/3
Combine the ground beef, Italian seasoning and parmesan cheese. Mix well and form 6 meatballs. Cut the mozzarella ball into 6 pieces. Poke a hole in the center of each meatball and garnish with a piece of mozzarella. Grill the meatballs. Place the roasted eggplant with its toppings on the bottom half of the Hawaiian rolls, followed by the meatballs then close the roll. Serve and enjoy!