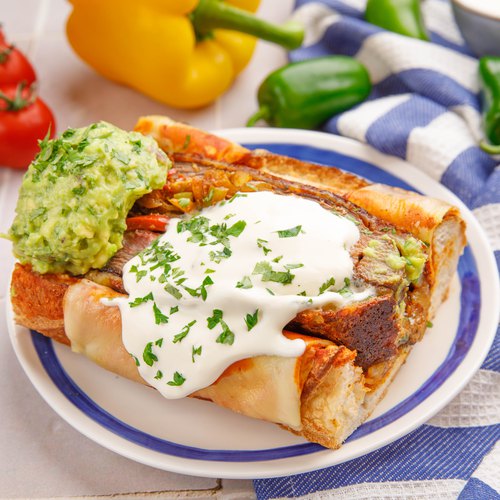 Beef Fajita Stuffed French Bread
Fajita is turning French! So bougie! :)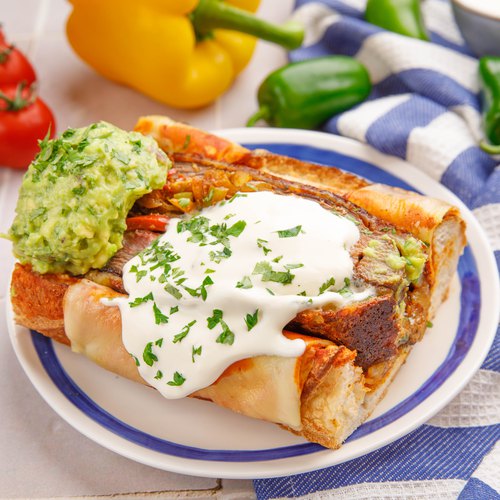 ---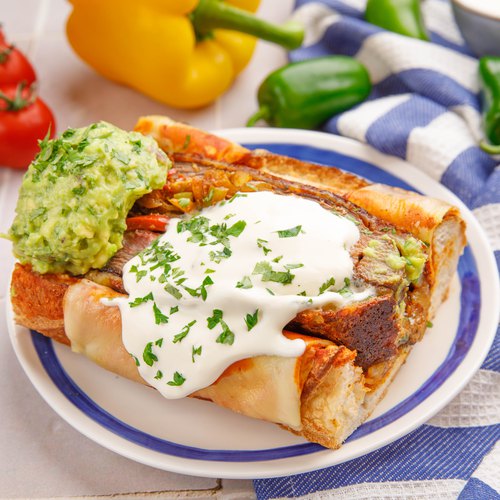 ---
Total time: 1 hour
Prep time: 1 hour
Ingredients for 4 people
1 red bell pepper
1 green bell pepper
1 yellow bell pepper
1 onion
1 tbsp of olive oil
2 tbsp of chefclub tex-mex spice mix
1/2 lb of flank steak
1 baguette
6 slices of monterey jack
1/2 cup of hot sauce
5 oz of shredded cheddar
8 oz of shredded monterey jack
1/2 cup of guacamole
1/2 cup of sour cream
2 tbsp of cilantro
---
Tools
Wooden skewers
Electric griddle
---
Step 1/4
Cook the sliced bell peppers and onions in a frying pan with olive oil over high heat until softened and slightly charred. Next, rub the steak with 1 tbsp Tex-Mex spice on both sides. Add the cooked veggies to one side of the steak, then fold the steak to seal the vegetables and secure each loose side with a bamboo skewer.
Step 2/4
Cook the steak pocket on an electric griddle to your preferred taste (rare, medium-rare, medium) and sear on both sides. Once cooked, remove and let rest. Later, remove the skewers.
Step 3/4
Make a large cut along the entire top surface of a baguette, being careful to not cut all of the way through. Press down the edges to make a crevice in the center of the baguette. Dip the Monterey Jack cheese slices in hot sauce, then place along the length of the baguette. Sprinkle cheddar, followed by the remaining Tex-Mex spices down the center of the baguette. Bake for 5 minutes at 350 °F.
Step 4/4
Sprinkle shredded Monterey Jack cheese onto an electric griddle in a rectangular shape that is double the size of the steak pocket. Let caramelize, then place the steak on top, and fold the caramelized cheese over the steak. Remove from heat and slice into two 1 inch strips. Place the strips inside the baguette side by side, then top with 3 generous scoops of guacamole, and two scoops of sour cream. Sprinkle with cilantro and serve with any remaining meat and veggies. Enjoy!