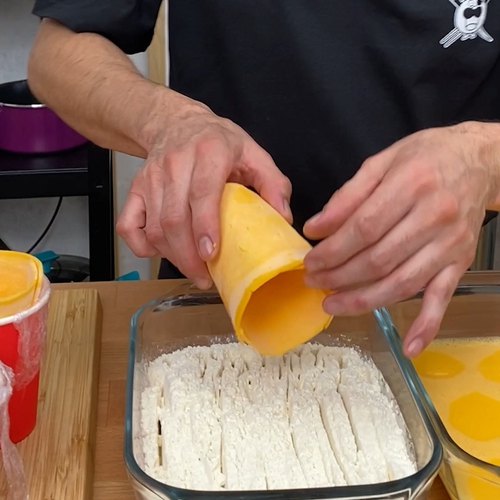 Chili Cheese Cups
Like a bread bowl, but made of cheese 🧀😍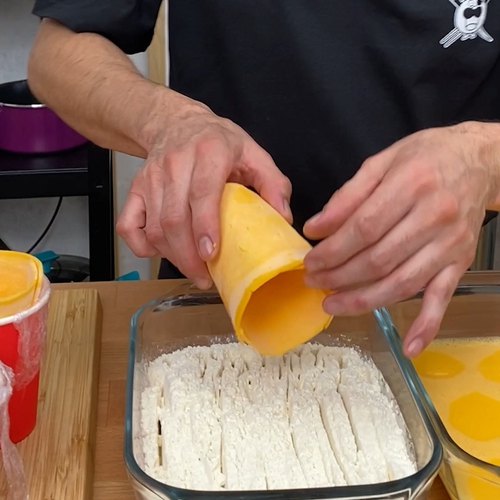 ---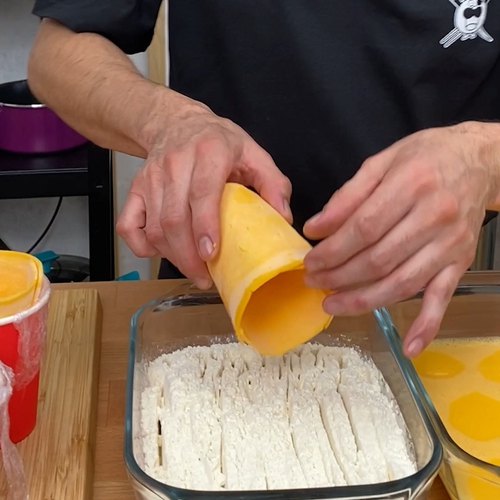 ---
Total time: 1 hour 30 minutes
Ingredients for 4 people
14 slices of cheddar cheese
1 tbsp + 1 tsp olive oil
1/2 onion
1 clove garlic
1 red bell pepper
1 tsp of paprika
1 tsp of cumin
1 tsp of chili powder
1/2 lb of ground beef
salt & pepper
beef stock cube
1 tbsp of tomato puree
1 tsp of sugar
1 cup of diced tomatoes
3 cups of flour
4 eggs
3 cups of breadcrumbs
1 cup of kidney beans
vegetable oil
parsley
---
Tools
Plastic cups
Plastic wrap
Scissors
Paper towels
---
Step 1/4
Using the bottom of a plastic cup, cut out 4 circles from the cheddar slices. Roll out a piece of plastic wrap and fold it in two. Place the plastic wrap square on top of a plastic cup and press the plastic wrap into the cup with the help of a second cup. Place one of the cheddar circles at the bottom of the cup. Then take 3 cheddar slices and line the inside of the cup so its entire surface is covered by cheddar. Brush the edges with a little bit of water to help the cheese stick. Repeat until you have 4 identical cheddar-lined cups. Place in the freezer.
Step 2/4
For the chili: In a sauce pan over medium heat add 1 tsp olive oil, onion, garlic, and red bell pepper. Let cook 5 minutes and then add in paprika, cumin, and chili powder. Mix and set aside. Next heat 1 tbsp of olive oil in a frying pan over medium high heat and add in the ground beef, salt, and pepper. Cook well and add the meat to the sauce pan. Return the sauce pan to the heat and mix in 1/2 cup water, beef stock, tomato puree, sugar, and diced tomatoes. Bring to a boil and then let simmer on low for about 20 minutes. Stir occasionally and add water if needed.
Step 3/4
Remove the cheddar cups from the freezer and cut off any excess cheese with a scissors so that the cheese aligns with the top edge of the plastic cup. Save the excess cheese for later. Remove the cheddar from the cup and place in the flour mixture, then the whisked eggs, and lastly the panko. Repeat the same process twice for each cup. Try to bread the cups as quickly as possible to prevent the cheese from melting too much. Once all 4 cups are breaded, fry them in oil at 350 °F until they are golden in color. Remove from the oil and place on paper towels to remove any excess oil.
Step 4/4
Add the kidney beans and the excess cheese to your chili. Let the chili sit for 15-20 minutes before serving to allow flavors to develop. Place the 4 cheese cups on a plate and serve with chili. Garnish with parsley and enjoy!