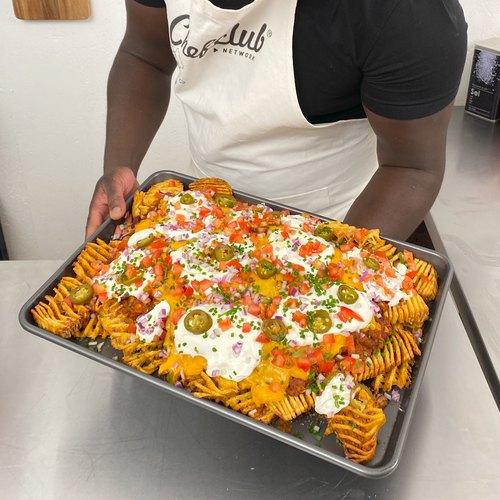 Extreme Chili Cheese Waffle Fries
Made for a party (but we won't tell if you want them all to yourself)! 😜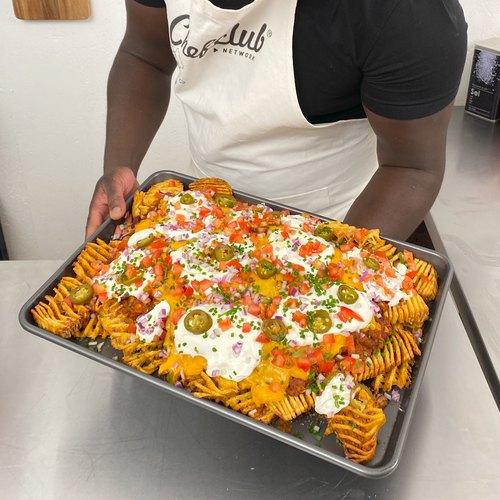 ---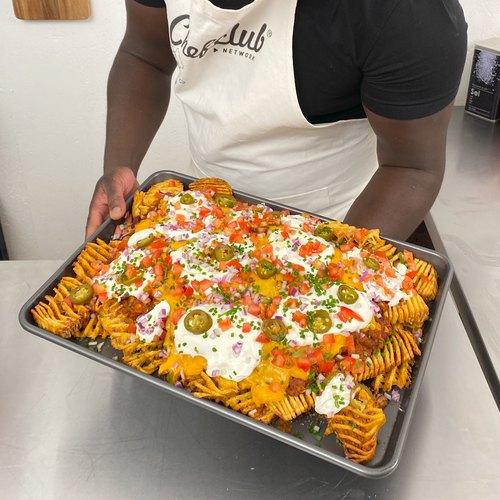 ---
Ingredients for 8 people
1 tablespoon olive oil
2 pounds of ground beef
3 cloves garlic, minced
1 sweet onion
1 can of (15-ounce) diced tomatoes
1 can of (16-ounce) tomato sauce
1/4 cup of tomato paste
1 can of (16-ounce) red beans
1 can of (16 ounce) sweet corn
salt & pepper to taste
1 teaspoon ground coriander
2 teaspoons paprika
1 1/2 teaspoons cumin
2 teaspoons dried oregano
3 tablespoons chili powder
potatoes
vegetable or canola oil
cajun seasoning
cheddar cheese
sour cream
diced tomatoes
red onion
chives
jalapeño
---
Tools
Slow cooker
Chopsticks
---
Step 1/4
Begin by making the Chili. In a frying pan, cook the beef with olive oil, onions, and garlic. Then put the meat in a slow cooker and add the diced tomatoes, the tomato sauce, tomato paste, red beans, and corn. Season the mixture with salt, pepper, ground coriander, paprika, cumin, oregano, and chili powder. Let slow cook for 8 hours.
Step 2/4
Once the chili is ready, begin making the fries. For the fries, cut the potatoes lengthwise into slices. Then place one chopstick on each side of the potato and make many small vertical cuts into the potato, being careful to not cut entirely through the potato. Turn the potato around and repeat the same gesture, but in a diagonal line. Place the potatoes in cool water to prevent them from browning.
Step 3/4
When the potatoes are ready to be fried, use two chopsticks to submerge the potato in the hot oil. Repeat until all of the potatoes have been fried and set aside for 20 minutes. Then re-fry all of the potatoes a second time, this time being sure to spread out the potato so the ridges in the waffle fries are nicely separated. Place all of the finished fries in a bowl and add the cajun seasoning.
Step 4/4
Place the fries on a serving platter and pour the finished chili on top of the fries. Then garnish with melted cheddar cheese, sour cream, diced tomatoes, red onions, and chives. Lastly top with sliced jalapeño and enjoy!