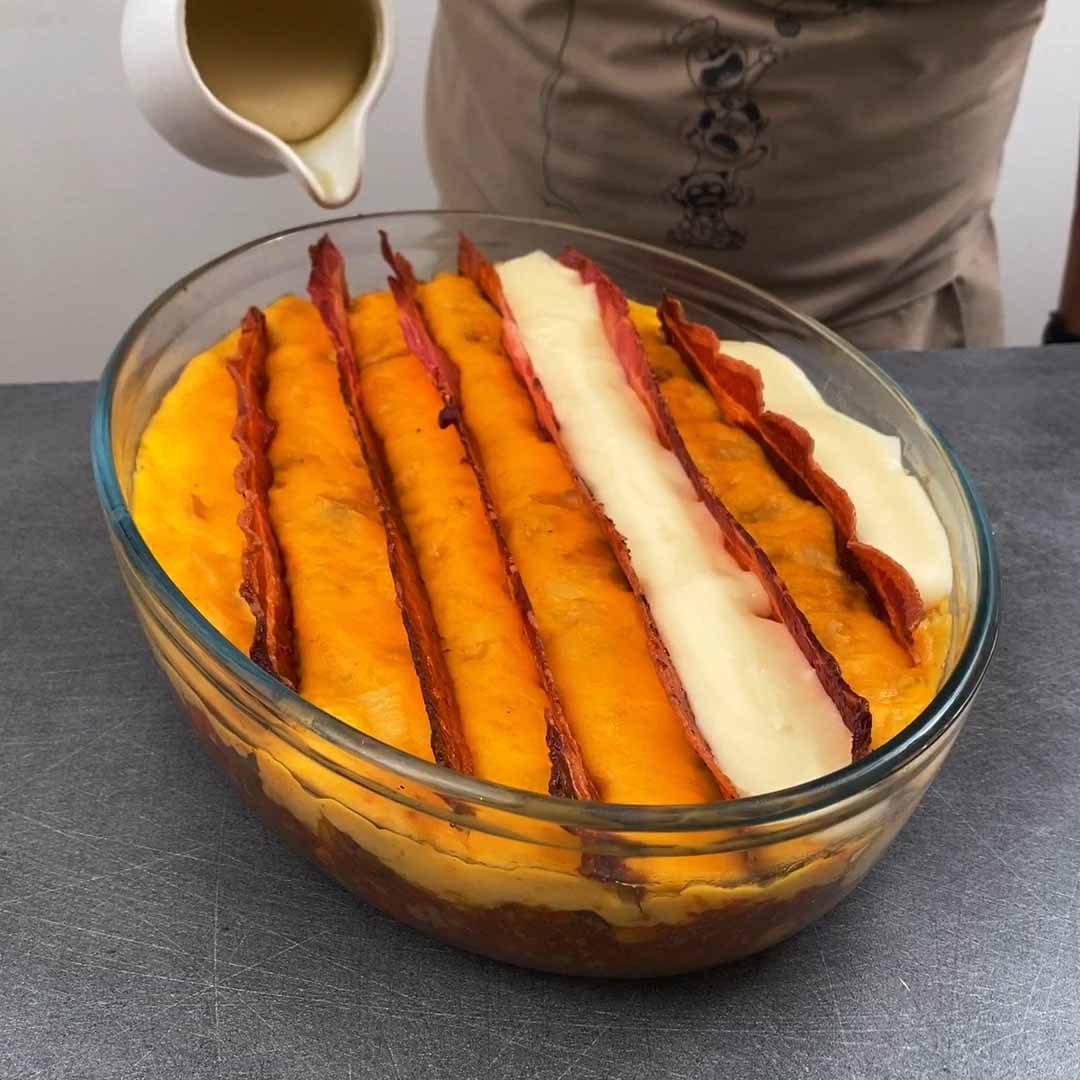 Cheese & Bacon Hot Dish
Now this is one you need to make tonight!!! 😁
Total time: 45 minutes
Ingredients for 6 people
6 potatoes
Bacon
1 cup grated cheddar cheese
2 cups melted white cheddar cheese
1 onion, chopped
2 garlic cloves, chopped
1/2 lb ground beef
Salt & pepper
1/3 cup tomato paste
1 1/2 cup frozen mixed vegetables
2 tbsp Worcestershire sauce
Chives
Olive oil
1/2 cup beef broth
2 cups melted cheddar cheese
---
Step 1/4
Place a cooling rack on top of a sheet pan. Cover with strips of bacon, ensuring that the ends are touching, then top with another rack. Cook for 15 min at 350 °F until crisp.
Step 2/4
Add olive oil to a hot skillet and cook the onions, garlic, ground beef. Season with salt and pepper and add the Worcestershire sauce, tomato paste, and beef broth. Once the meat mixture starts to bubble, add the add frozen vegetables and cook until the vegetables begin to soften. Place the mixture into a baking dish.
Step 3/4
Cut the potatoes into cubes, then season with salt and pepper. Place the potatoes on a piece of foil and cover with shredded cheddar cheese. Cover completely with foil and cook for 45 minutes at 350 °F. When cooked, remove the foil and use forks to mix the cheese and potatoes. Top the meat mixture with the cheesy potatoes.
Step 4/4
Place bacon length-wise across the dish to create rows. Alternate pouring white cheddar cheese sauce and yellow cheddar cheese sauce between the bacon rows. Garnish with chopped chives and enjoy!