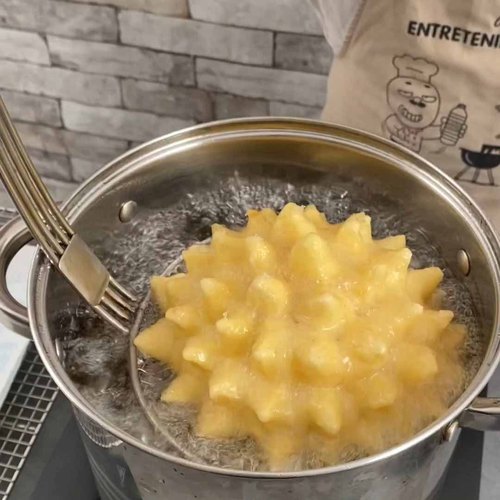 Pointy Pulled Pork
Slow-cooked pork surrounded by crispy cheesy potatoes!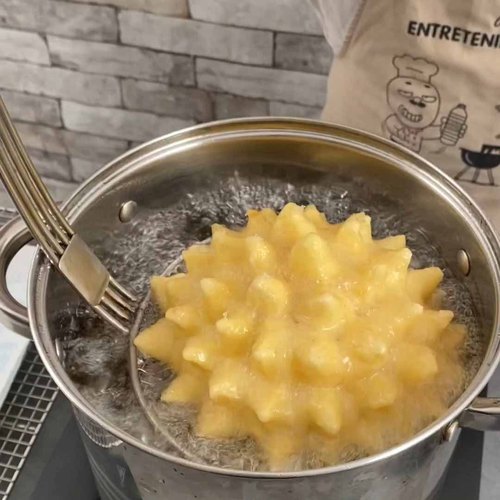 ---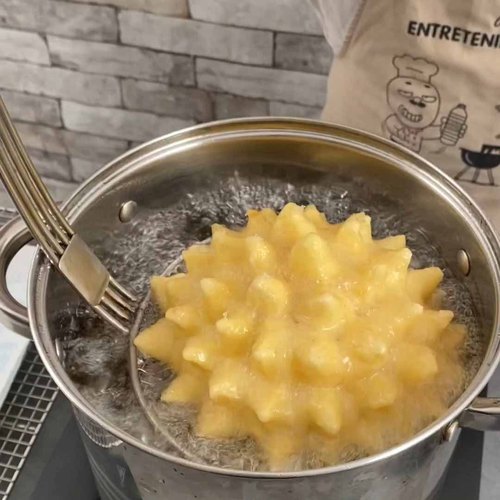 ---
Ingredients for 4 people
salt
pepper
pork shoulder
olive oil
onions
2 cloves garlic
rosemary
1 can of coca-cola
cubed potatoes
1/2 cup of milk
butter
cheddar
2 eggs
1/2 cup of cornmeal
flour
hot oil
barbecue sauce
coleslaw
---
Tools
Cardboard
Foil
Slow cooker
Slow cooker liner
Plastic wrap
Small bowl
Plastic bag
Paper towels
---
Step 1/3
Salt and pepper the pork shoulder. Brown the pork shoulder in a frying pan with olive oil. Set aside. Create a DIY divider for your slow cooker out of cardboard and foil. Place it in the center and cover it with a slow cooker liner. On one side of the slow cooker place the pork shoulder, onions, minced garlic cloves, salt, pepper, rosemary, and a can of Coca-Cola. On the other side place cubed potatoes, milk, butter, and cheddar. Slow cook for 8 hours.
Step 2/3
Remove the pulled pork and cheesy mashed potatoes from the cooker and place in separate bowls. Shred the pork shoulders using a fork. Mash the potatoes and add two eggs, salt, pepper, corn meal, and flour. Line a small bowl with plastic wrap and fill with the mashed potatoes, leaving a little space for the pulled pork. Add in the pulled pork and using 2 forks, make a small opening. Place some cheddar cheese in the opening and cover with mashed potatoes.
Step 3/3
Place the remaining mashed potatoes in a plastic bag. Close the bag and cut off one of the bottom corners to make a piping bag. Pipe small spikes onto the bowl and define the spikes with your hands. Sprinkle flour on top and deep fry it in hot oil until it is a nice golden brown. Remove any excess oil with a paper towel and sprinkle with salt. Then bake in the oven for 40 minutes at 350 °F. Serve with barbecue sauce and coleslaw and enjoy!