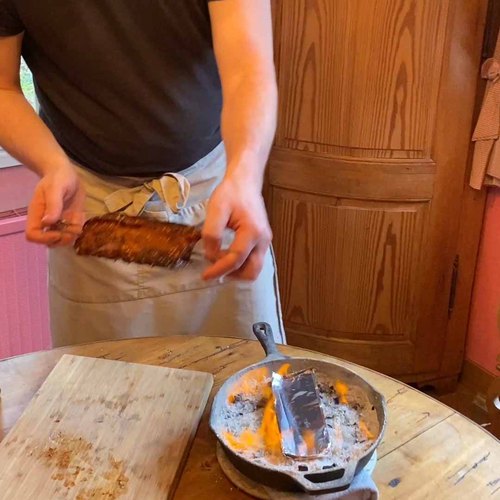 Fire-roasted Pork Belly
The juiciest pork belly you've ever eaten 😍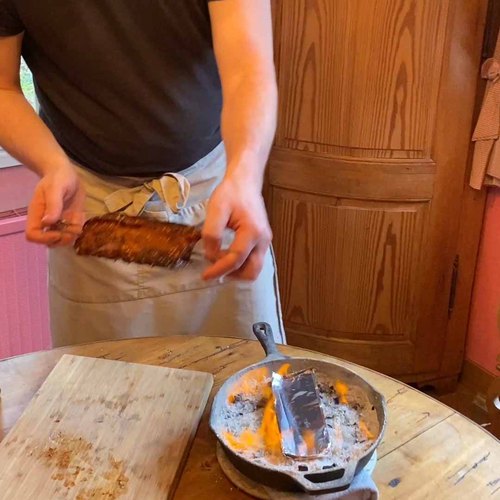 ---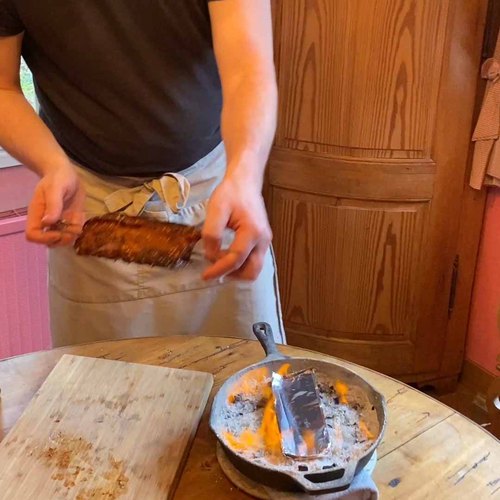 ---
Ingredients for 4 people
2 lb of pork belly
kosher salt
bay leaf
thyme leaves
2 tsp of paprika
1 tsp of chili powder
1 tsp of salt
1 tbsp of brown sugar
1 tsp of celery salt
1/2 tsp of garlic powder
1/2 tsp of onion powder
3 tbsp of ketchup
1 tbsp of mustard
jack daniel's tennessee honey
---
Tools
Aluminum foil
Cast iron skillet
Skewers
---
Step 1/5
Criss cross cut across the fat side of the pork belly making sure to not cut into the meat. Place two pieces of foil on top of each other, then place a layer of kosher salt in the center topped with a bay leaf and the thyme.
Step 2/5
Mix together the paprika, cumin, chili powder, salt, pepper, onion powder, garlic powder, and celery salt. Place the rub on the meat side of the pork belly. Place the rub side down on the salt and herb bed. Fold the first layer of foil around the pork belly forming a boat. Then cover the entire thing with the second piece of foil
Step 3/5
Cover the bottom of the skillet with kosher salt. Place the pork belly packet on the salt then fill in the sides of the skillet around the pork belly with more kosher salt, so that only the top of the pork belly packet is exposed.
Step 4/5
Build a fire in your fireplace. Place the skillet next to the fire and cover the salt with hot embers. Let cook 4 hours, turning the skillet every 30 minutes. Remove the pork belly from the skillet and foil, leaving the salt in the skillet. Place the skewers into the side.
Step 5/5
Mix the remaining rub with ketchup, mustard, and 1 tbsp of Jack Daniel's. Brush the sauce on each side of the pork belly. Pour the Jack Daniel's over the remaining salt in the skillet, then use a lighter or blowtorch to light the whiskey on fire. Place a folded piece of foil in the middle of the flames, then the meat. Rotate the meat until the sauce is caramelized. Slice and enjoy!