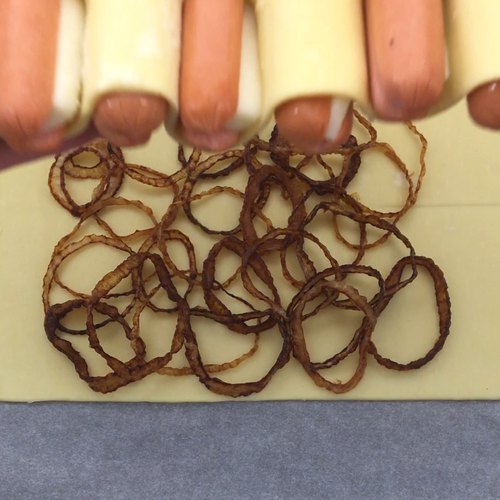 Hot Dog Tart
A new way to eat your hot dogs!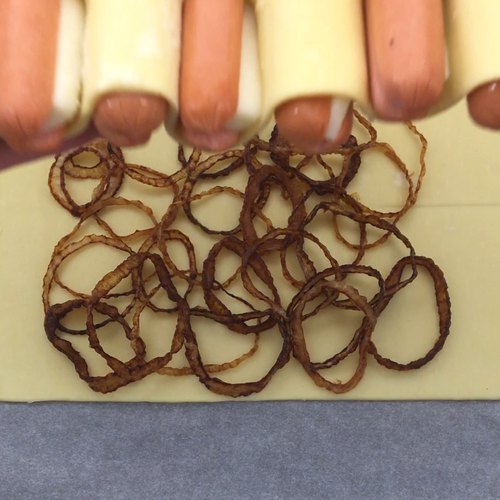 ---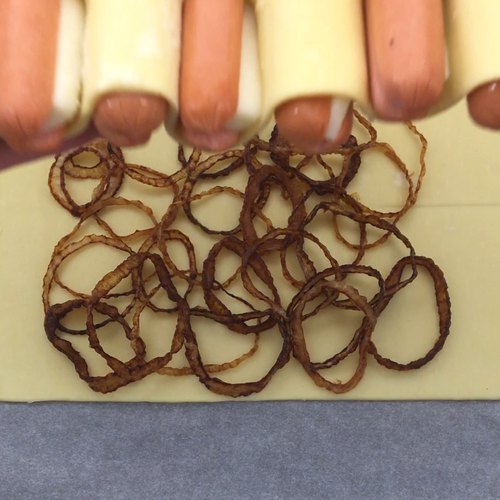 ---
Ingredients for 6 people
2 sheets of puff pastry
1 block of mozzarella
8 hot dogs
1 onion
1 egg yolk
1 cup of vegetable oil
mustard
ketchup
---
Step 1/5
Cut the mozzarella into slices and then into thin strips. Make a slit in the hotdogs lenthwise and stuff with the cheese.
Step 2/5
Cut the puff pastry into a rectangle the same width as the full length of the hot dogs. Cut this rectangle into 5 strips, leaving the left side edge of the pastry uncut to hold it all together. Form a checkerboard of pastry and hot dog by alternating the hot dogs and strips of pastry.
Step 3/5
Cut the onion into rings and fry for 3-4 minutes in hot oil. Cut the second puff pastry sheet to the same width as the checkerboard, but make it slightly longer. Put the fried onion onto the second pastry sheet.
Step 4/5
Put the checkerboard pastry sheet on top of the onion and fold the edges of the bottom sheet of pastry over to make the edges. Brush the pastry with egg yolk.
Step 5/5
Bake for 15 minutes at 400 °F, then decorate with mustard and ketchup and serve with a side salad.
Similar recipes from Chefclub
-
Our other recipes