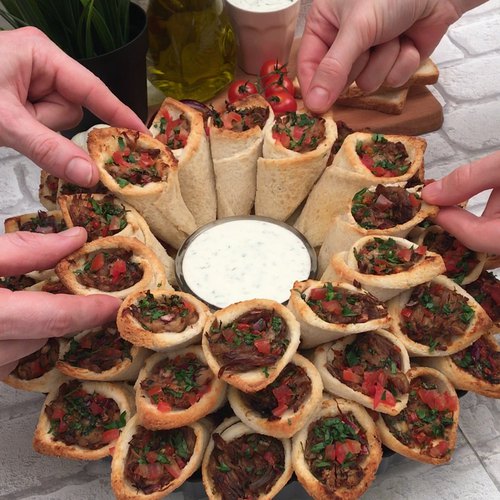 Gyros Party
The taste of Greece amongst friends 😍🇬🇷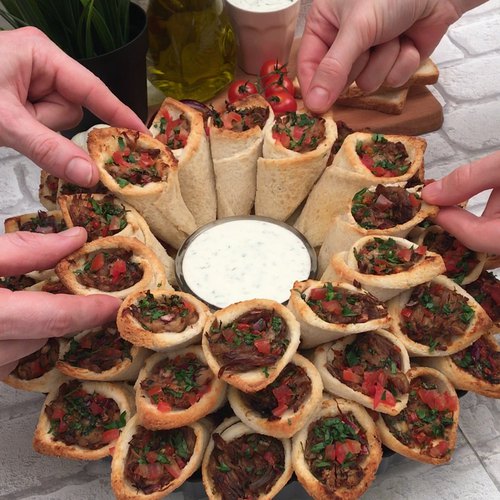 ---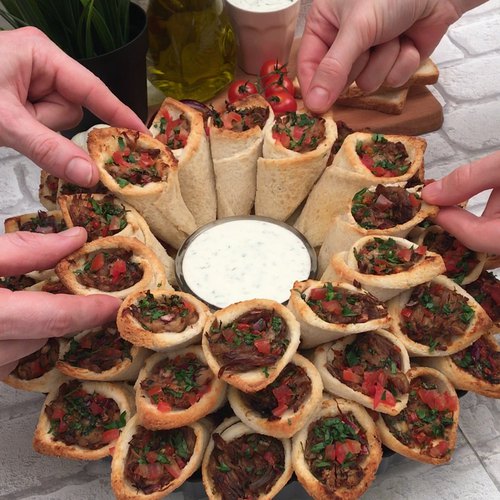 ---
Ingredients for 10 people
2 1/2 lbs of leg of lamb
3 1/2 tbsp of ketchup
3 1/2 tbsp of mustard
2 red onions
1 yellow onion
2 cloves garlic
60 slices of sandwich bread
2 tomatoes
2/3 cup of mozzarella, grated
1 cup of tzatziki
olive oil
cumin
cilantro
salt & pepper
---
Tools
Roasting pan
Pie pan
Rolling pin
Ramekin
---
Step 1/4
Place the leg of lamb in the roasting pan, brush it with ketchup and mustard, place 1 red onion and the sliced yellow onion around it, add the peeled garlic cloves, cumin, salt, pepper, olive oil, and water halfway up the leg of lamb. Bake for 4 hours at 350 °F.
Step 2/4
Flatten the slices of bread with the rolling pin, moisten them, and then roll each one into a cone, sealing the base well. Mince the 2nd red onion and dice the tomatoes. Remove the leg of lamb from the oven, shred it, and fill each cone with a little meat, red onion, tomato, and chopped cilantro.
Step 3/4
Place the ramekin in the centre of the pie dish, then place a first layer of filled cones in a circle around it and sprinkle with grated mozzarella cheese. Add a new row of cones on top and sprinkle again with mozzarella. Form a last row and bake for 10 minutes at 350 °F.
Step 4/4
When it comes out of the oven, add the tzatziki to the ramekin and enjoy the small gyros by dipping them in it.