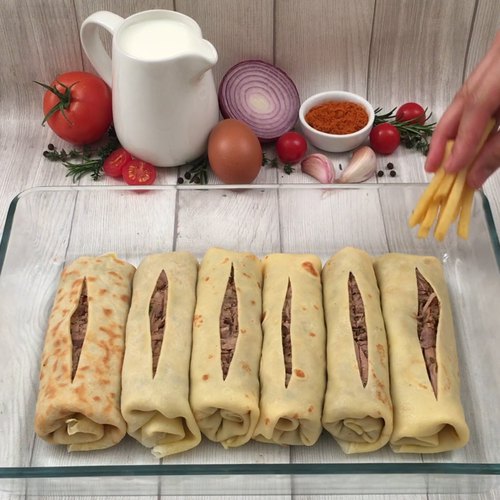 Lamb Wraps
With little crepe blankets! 😍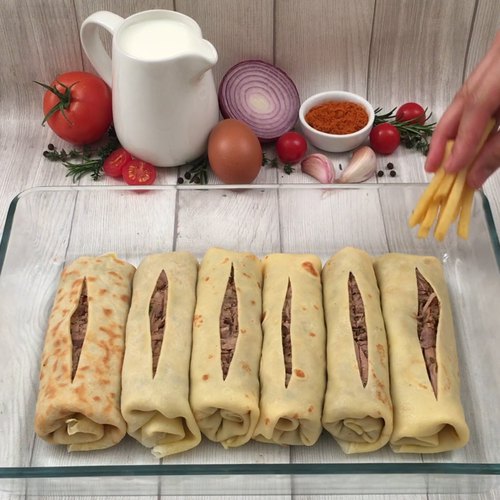 ---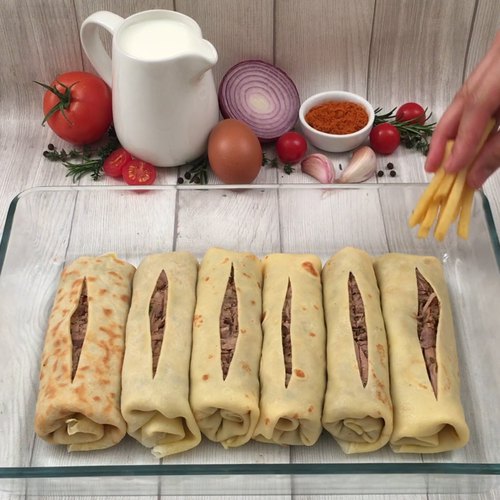 ---
Ingredients for 6 people
1 lamb shoulder
olive oil
1 tablespoon paprika
1 tablespoon garlic powder
1 tablespoon cumin
1 tablespoon salt
thyme
rosemary
1 red onion, sliced
2 cups of crepe batter
1 tomato, diced
parsley, chopped
---
Tools
Aluminum foil
Crepe pan
Ladle
---
Step 1/3
In a baking dish, drizzle the lamb should with olive oil. Add the cumin, salt, paprika, and garlic powder. Rub with finger to evenly coat the lamb with the spices. Add sprigs of thyme and rosemary to the dish, as well as red onion slices. Cover the dish well with aluminum foil. Bake for 2 hours and 30 minutes at 320 °F.
Step 2/3
Fill the crepe pan with one ladle of crepe batter and cook until done. Repeat until you have 6 crepes. Remove the lamb from the oven and shred the meat with a fork. Add some shredded lamb to a crepe and garnish with tomato, parsley and red onion. Roll the crepe like a burrito and place in a baking dish. Repeat with the other 5 crepes. Cut a slit in the center of each crepe and place French fries upright along the edge of the baking dish. Bake for 8 minutes at 350 °F.
Step 3/3
Pour the white sauce into the center of each crepe along with red onions and tomato. Enjoy.