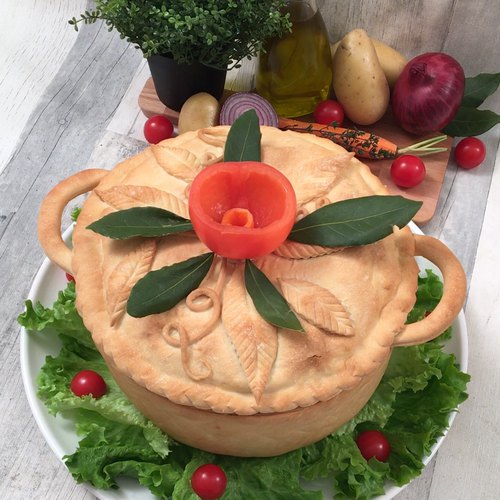 Lamb Stew in Its Edible Pot
Make lid sandwiches! 😍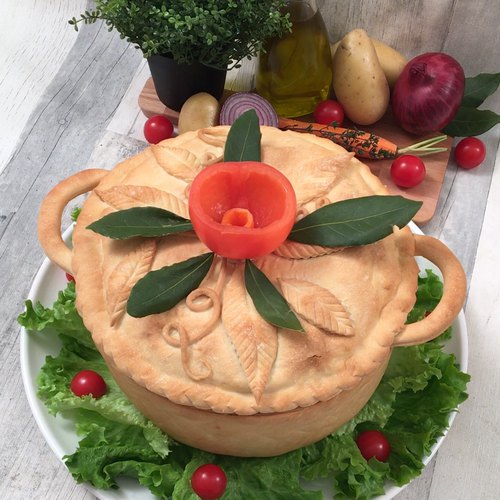 ---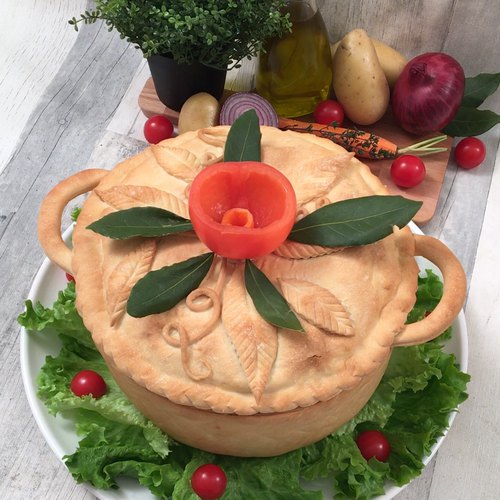 ---
Ingredients for 6 people
1 lamb shoulder, deboned
6 potatoes
4 carrots
2 red onions, chopped
2 stock cubes
4 pizza doughs
10 slices of raclette cheese
1 tomato
olive oil
bay leaves
thyme
rosemary
1 apple corer
---
Tools
Baking dish
Large stewpot
Aluminium foil
---
Step 1/5
Cube the lamb shoulder, potatoes, and 3 carrots and place them in the baking dish. Add the chopped onions, thyme, rosemary, bay leaf, a drizzle of olive oil and the crumbled stock cubes. Cover with 1.5 qt of water and bake for 1 1/2 hours at 325 °F.
Step 2/5
Turn the stewpot over and cover the base with aluminum foil and then with 2 of the pizza doughs, one on top of the other, and stretch them down the side. Trim the dough to make a straight edge bake for 20 minutes at 350 °F.
Step 3/5
Arrange the slices of raclette in a circle on another pizza dough, sprinkle with thyme, brush the edge lightly with water, and cover with the last dough. Roll up the edges slightly to seal them. Make handles and leaves with the scraps of the first dough. Make a small circle and place it in the center of the dough, place the leaves around it and attach the handles to the sides. Bake for 20 minutes at 350 °F.
Step 4/5
Cut off the top of the tomato and hollow it out. Cut a section from the last carrot and hollow it out lengthwise with the apple corer. Cut a hole at the bottom of the tomato and place the carrot section in it. Place bay leaves where the carrot and tomato join.
Step 5/5
Demold the bread pot and fill it with the cooked lamb and vegetables, reserving the stock. Cover with the pastry lid and poke a hole in the center of the small circle. Place the carrot in the tomato in the hole. Pour the reserved stock into the tomato to add it to the pot. Cut the lid off and enjoy.