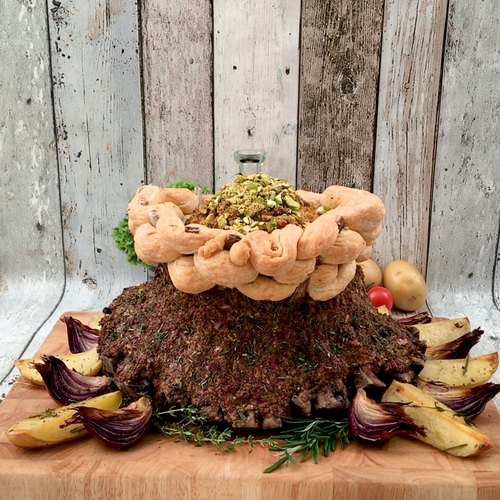 Roast Beast
Have yourself a Whoville feast! 🎄🍗❤️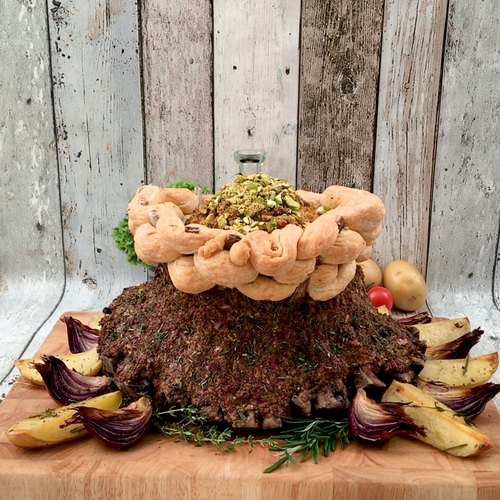 Christmas dinner doesn't have to be hard to be impressive. Follow along as we show you how to make a centerpiece that will go down in history. Racks of lamb seasoned with mustard makes the perfect main dish, while a pistachio coated cauliflower acts as a built-in side dish. Cheese-stuffed pizza dough means rolls are served with little fuss.
---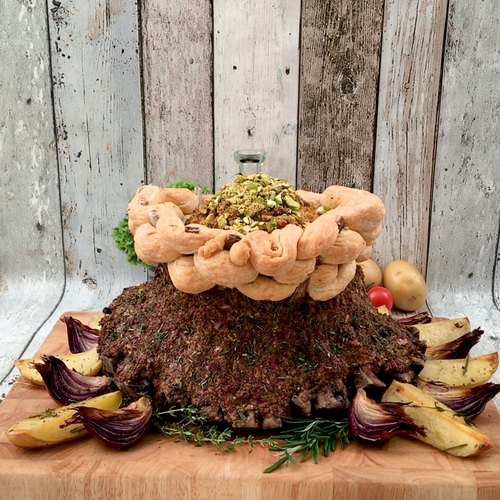 ---
Total time: 1 hour 40 minutes
Ingredients for 8 people
2 racks of lamb
4 sheets of puff pastry
1 cup of cheddar
3 1/4 cups of stone-ground mustard, divided
1 red onion, chopped
1/2 cup of rosemary, chopped
2 tbsp of thyme, plus extra for sauce
1 cauliflower
1/2 cup of pistachios
1/2 cup of butter
5 tbsp of honey
6 potatoes, cut into wedges
olive oil
salt & pepper
---
Tools
Skewer
Kitchen twine
Roasting pan
---
Step 1/3
Make a notch in a wooden skewer and tie a knot with kitchen twine, use this homemade needle to sew together your two racks of lamb, bone side up. Place a whole cauliflower in the center, set aside. In a mixing bowl, mix together 3 cups mustard, red onion, thyme, rosemary. Cover the sides of the lamb with the sauce.
Step 2/3
Place lamb on baking sheet and then cover the cauliflower with butter, top with pistachios. Meanwhile, fill your 4 puff pastry doughs with cheddar cheese, rolling into long logs. Weave the cheese-stuffed dough through the bones. Placed slided potatoes around the roast in the pan and bake for 1 hour and 20 minutes at 250 °F.
Step 3/3
Make the mustard sauce. In a small mixing bowl combine honey and 1/4 cup mustard and mix until smooth, adding a little water if needed for a pourable consistency. Add chopped fresh thyme, salt and pepper to taste. Serve with the meat.