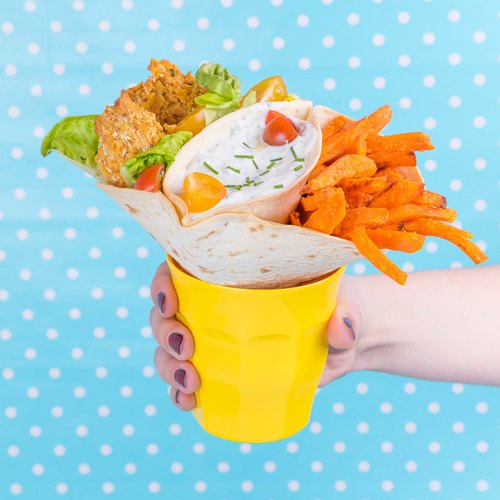 Fried Vegetarian Nuggets
Fried Vegetarian Nuggets! You won't be able to stop eating these 😚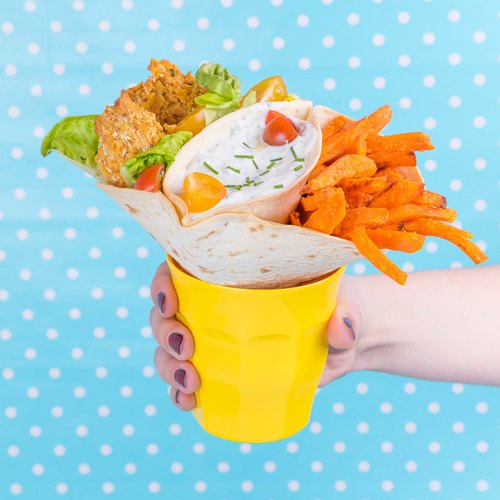 ---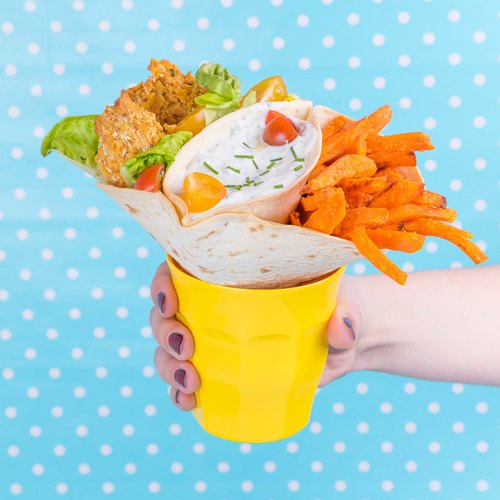 ---
Total time: 1 hour 50 minutes
Prep time: 35 minutes, Cook time: 1 hour 15 minutes
Ingredients for 3 people
1 1/4 cups of flour
2 tbsp of almond milk
2 pinches of salt & pepper
3 tbsp of olive oil
2 tbsp of paprika
2 tbsp of garlic powder
1 cauliflower
1 cup of breadcrumbs
3 tortillas
5 tsp of chefclub vegetable seasoning
1 tsp of dill
7 oz of cream cheese
1 lemon
Salad
1 sweet potato
---
Tools
Skewers
Toothpicks
parchment paper
---
Step 1/3
Mix the flour, the almond milk, salt, pepper, the olive oil, the paprika, the garlic powder and mix until you obtain a smooth batter. Cut a slice of cauliflower and hollow out the heart of the cauliflower. Cut the slice of cauliflower into 9 pieces and stick 3 pieces of cauliflower on each skewer. Cover the cauliflower skewers with the batter and sprinkle them with breadcrumbs. Place them on a baking sheet and bake for 30 minutes at 350°F.
Step 2/3
Brush the tortillas with olive oil and sprinkle with Chefclub vegetable seasoning. Fold the tortillas in half then in half again. Secure the ends together with toothpicks. Arrange them on a baking tray lined with parchment paper and bake for 15 minutes at 280°F. Cut the sweet potato into strips and place them on a baking tray lined with parchment paper, season with salt and pepper and bake for 30 minutes at 410°F.
Step 3/3
Cut the chives and the dill into small pieces. Mix the herbs with the cream cheese and the lemon juice. Place the tortillas in a container to form cones. Arrange the salad, the cauliflower nuggets in a compartment of the tortillas, place the sauce in the center, place the sweet potato fries in the last compartment. Sprinkle with chives and enjoy!