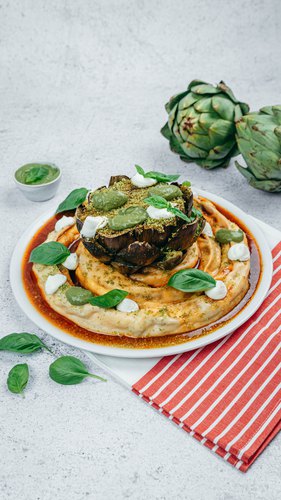 Stuffed Artichoke & Ravioli
Stuffed Artichoke & Ravioli! Try some authentic Italian cuisine ❤️🥟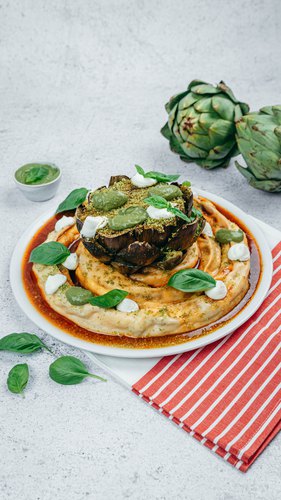 ---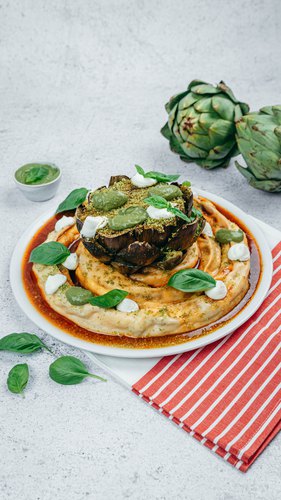 ---
Total time: 30 minutes
Cook time: 30 minutes
Ingredients for 4 people
1 clove garlic
1 cup of parmesan
1 cup of breadcrumbs
Herbs de provence
1 artichoke
3 tsp of olive oil
1 lemon
2 vegetable bouillon cubes
3 egg
1 lb of flour
2 lbs of ground beef
1 lb of ricotta cheese
Basil
---
Tools
parchment paper
---
Step 1/3
Clean the artichoke and cut off top. Mix lemon, olive oil, herbs, breadcrumbs, garlic and parmesan. Stuff artichoke with mixture. Place in a dish with water and bouillon cubes. Cover with foil and bake 40 minutes at 350°F.
Step 2/3
Mix flour and eggs to create pasta dough. Pass through pasta maker and place on flat surface. Garnish with cooked ground beef and ricotta. Fold dough on itself and create 1 long ravioli. Place on parchment paper and cook in hot water.
Step 3/3
Place ravioli on a plate and pour remaining ground beef juices on top. Add dollops of ricotta and sprinkle with basil. Serve and enjoy!