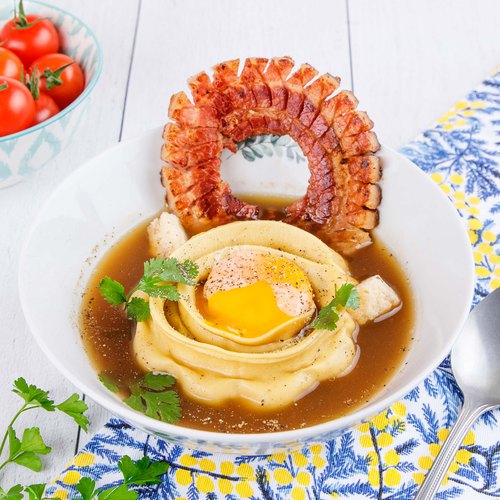 Homemade Ravioli
Homemade Ravioli! I'm pastative you will love this dish 😄🥟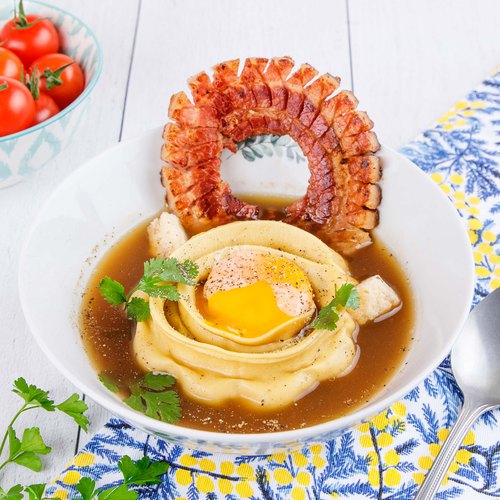 ---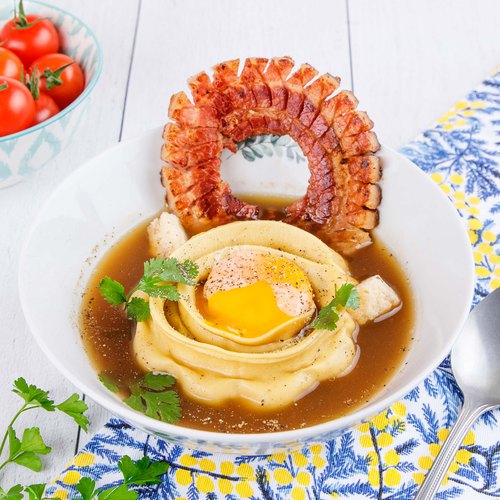 ---
Total time: 2 hours 5 minutes
Prep time: 50 minutes, Cook time: 15 minutes, Rest time: 1 hour
Ingredients for 3 people
1 3/4 cups of flour
4 egg
4 tbsp of olive oil
2 carrots
2 celery
2 onions
2 mushrooms
12 1/2 oz of parmesan
9 oz of ricotta cheese
1 slice of smoked bacon
Parsley
Pepper
---
Tools
Toothpicks
Ziplock bag
---
Step 1/4
In a bowl pour the flour and form a well. Add 4 eggs and a drizzle of olive oil. Mix everything until you get a smooth dough. Allow to rest for 1 hour in a cool place.
Step 2/4
Heat 1 cup of water. Cut the carrots, celery stalks, onions, mushrooms into large pieces and add them to boiling water to obtain a vegetable broth. Simmer for 2 minutes. Sprinkle the work surface with flour, spread the dough on the work surface using a rolling pin, brush it with 1 egg yolk. Cut the parmesan into pieces, mix the grated parmesan and the ricotta to obtain a parmesan stuffing. Place the stuffing in a ziplock bag, cut off the bottom corner and pipe 2 lines of stuffing on each side of the dough and place the parmesan pieces on the stuffing.
Step 3/4
Fold the ends of the dough over the stuffing, cut each dough into 3 strips, press between each piece of parmesan cheese to give a jagged pattern to the dough then form spirals with each strip. Soak them in vegetable broth to cook them and set them aside on a plate. Cut 3 slices of smoked bacon, place them between 2 boards, make incisions on each side and form a circle, holding the ends with a toothpick. Cook each side of the smoked bacon in a hot skillet and set aside.
Step 4/4
Place the pasta spirals on a plate and add an egg yolk in the center of the spiral. Pour the vegetable broth, place the circles of smoked bacon, the parsley and 2 pieces of parmesan cheese (heated for 20 seconds in the microwave). Sprinkle with pepper and enjoy!