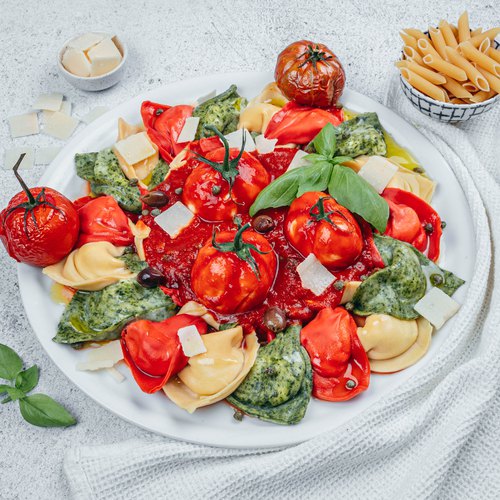 Italian Tortellini Crown
Italian Tortellini Crown! Nothing tastes better than homemade pasta 😘🍝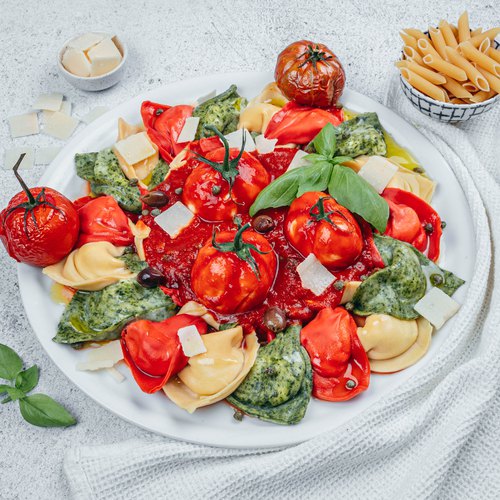 ---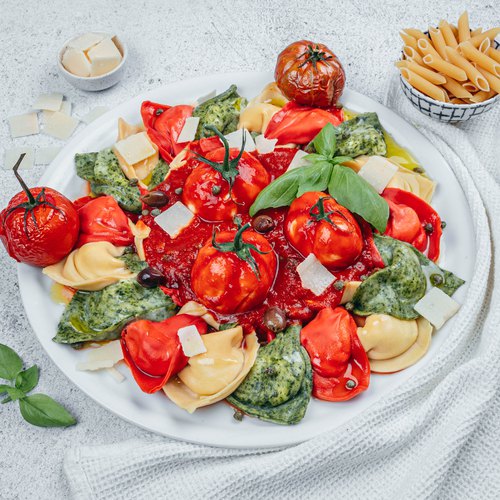 ---
Total time: 41 minutes
Prep time: 10 minutes, Cook time: 1 minute, Rest time: 30 minutes
Ingredients for 3 people
2.2 lbs of flour
10 egg
3 1/2 oz of tomato paste
7 cups of spinach
3 1/2 oz of ricotta cheese
4/5 cup of tomato sauce
2 tsp of agar agar
Mozzarella
3 tomatoes
1 lemon
1 zucchini
20 capers
Salt & pepper
2 tbsp of olive oil
Basil
Parmesan
---
Step 1/3
Combine flour and eggs to create a smooth pasta dough. Divide it in 3. Add the tomato paste to 1/3 and add spinach to another third. Spread the dough to create squares.
Step 2/3
Mix the ricotta, lemon juice, zucchini, salt and olive oil together. Stuff the dough with the filling. Close into triangles and brush with egg yolk. Glue the tortellini together to create a crown. Boil in hot water for 1 minute. Place on a plate with tomato sauce and capers.
Step 3/3
Wrap the mozzarella in cling wrap and place in the fridge for 30 minutes. Dip the mozzarella in the tomato sauce with agar agar and place in the middle of the tortellini crown. Sprinkle with basil and parmesan. Serve and enjoy!