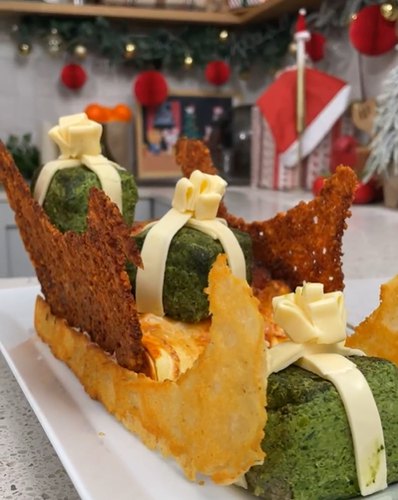 Christmas Sleigh Lasagna
Christmas Sleigh Lasagna! Get ready to sleigh this festive recipe 🎅🎁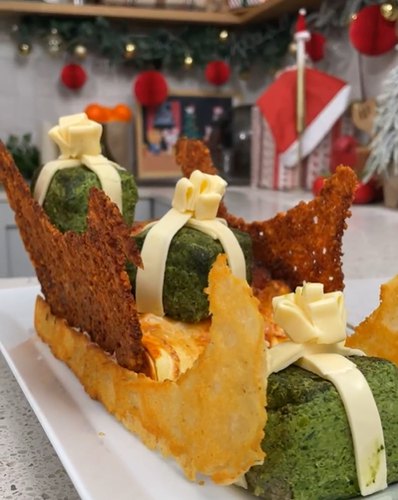 ---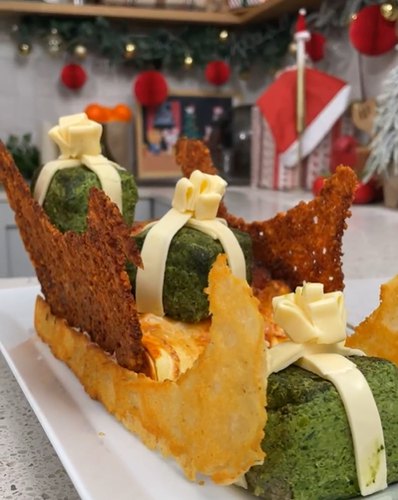 ---
Total time: 2 hours 5 minutes
Prep time: 35 minutes, Cook time: 40 minutes, Rest time: 50 minutes
Ingredients for 2 people
3/5 cup of butter
Parsley
2 cups of flour
2 egg
0.4 lb of tomatoes
1 tsp of tomato concentrate
Olive oil, divided
4 basil leaves
2.4 cups of milk
1 tsp of nutmeg
2 slices of emmental cheese
2 tsp of paprika
5.3 oz of mozzarella
0.4 lb of ground beef
Salt & pepper
---
Tools
parchment paper
Electric mixer
Cling wrap
---
Step 1/5
Mix the softened butter and the chopped parsley, then spread the preparation in the shape of a rectangle on a baking sheet covered with parchment paper. Cut into squares and place in the freezer for 20 minutes. Mix 1.6 cups of flour and the eggs until you obtain a smooth dough, cover it with cling wrap and refrigerate for 30 minutes.
Step 2/5
Roll out the dough. Put the tomatoes cut into pieces, the tomato paste and the basil leaves in a saucepan, pour 1 drizzle of olive oil and season with salt and pepper. Cook until you get a sauce. Pour the sauce over the dough. Roll the dough up and cut it in half, then put it in the baking dish. Melt 3 tbsp of butter in a saucepan, add the remaining flour and mix. Gradually add the milk to obtain a smooth texture. Season with nutmeg, salt and pepper then cover the lasagna rolls with the béchamel. Add the grated emmental cheese and bake for 20 to 30 minutes at 350°F.
Step 3/5
Put half of the parmesan cut into pieces and paprika in the blender and mix everything. Place a sheet of parchment paper on a sled model, draw the outlines with a marker. Place the sheet of parchment paper on a plancha, fill the model with parmesan and allow to brown. Repeat the process. Form the runners of the sled with the remaining parmesan on a sheet of parchment paper and let it brown. Assemble the parmesan tuiles and the lasagna to form a sled.
Step 4/5
Form a ball of ground beef, flatten it, then add the mozzarella and form a cube. Add the squares of parsley butter all around. Repeat the process to obtain 3 cubes, place them on a baking sheet covered with parchment paper and bake for 15 minutes at 340°F.
Step 5/5
Cut the slices of cmmental into strips, arrange them on the cubes to form ribbons. Arrange the gifts on the sled and enjoy!