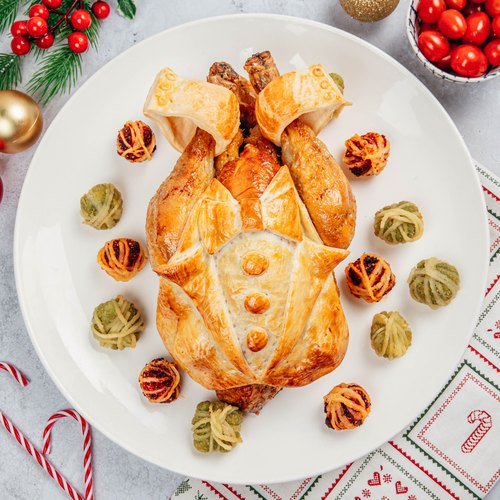 Christmas Tuxedo Chicken
Christmas Tuxedo Chicken! Get dressed up for this dish 🤵🍗🍗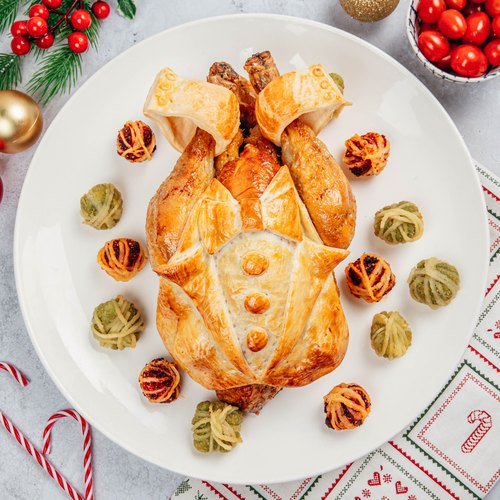 ---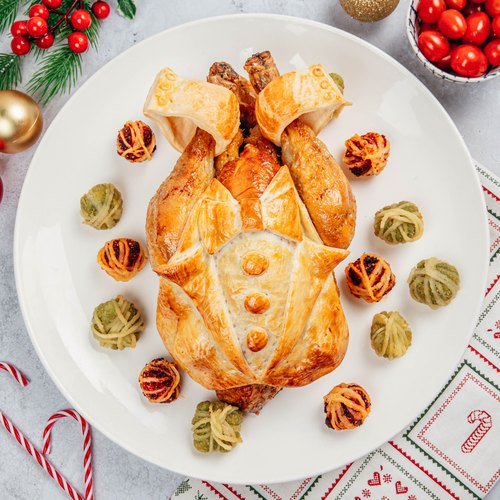 ---
Total time: 3 hours 30 minutes
Prep time: 1 hour , Cook time: 2 hours , Rest time: 30 minutes
Ingredients for 8 people
2 oz of bread
3/5 cup of milk
7 oz of stuffing
Parsley
1 mozzarella ball
5 sun-dried tomatoes
2 tbsp of butter
5 tsp of flour
1 egg
3 potatoes
2 tsp of herbs
2 cups of breadcrumbs
12 mini mozzarella balls
2 tsp of paprika
2 cups of oil
White wine
---
Tools
Cling wrap
Spiralizer
---
Step 1/3
Mix bread, stuffing, milk and parsley. Cut the mozzarella into slices, then drain the tomatoes, dry them and place them on the stuffing. Roll into a sausage shape and refrigerate for 30 minutes.
Step 2/3
Place the stuffing in the chicken and coat with butter. Bake 1 hour at 350°F. Baste the white wine from time to time.
Step 3/3
Spiralize the potatoes and coat with flour. Prepare two types of breadcrumbs: one with paprika and the other with herbs. Bread the mini mozzarella balls, then wrap with the potatoes and tie a knot to finish. Fry in hot oil until golden. Serve with the chicken and enjoy!