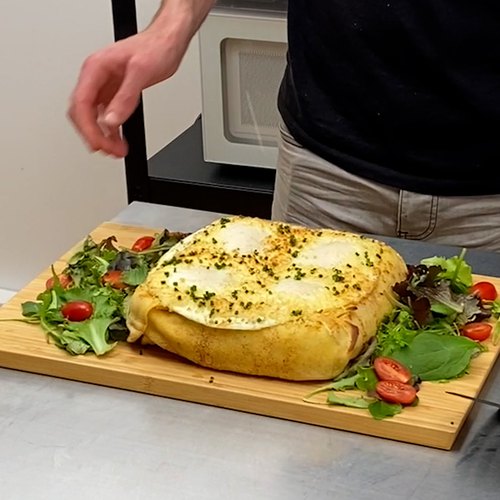 Veggie salmon crepe bake
Filled with creamy leeks and two types of salmon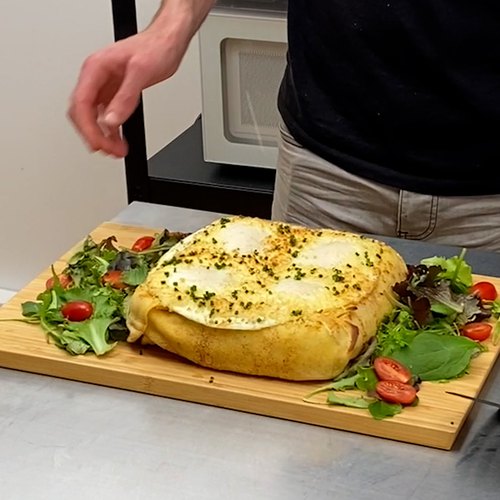 ---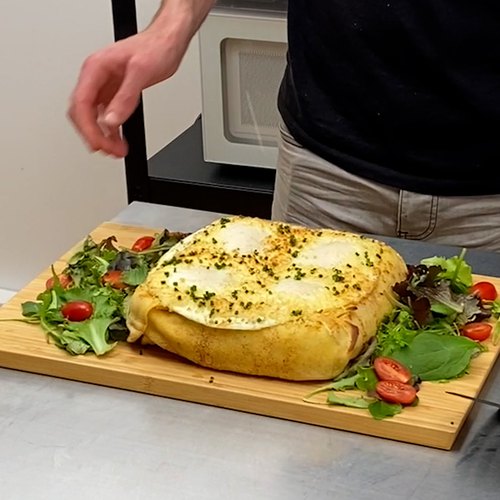 ---
Total time: 30 minutes
Prep time: 30 minutes
Ingredients for 4 people
8 eggs
5 leeks
1/4 cup of butter
2/3 cup of sour cream
12 slices of smoked salmon
2 1/4 cups of flour
3 cups of milk
1 salmon fillet
olive oil
salt & pepper
herbs de provence
shredded mozzarella
---
Tools
Skimmer
---
Step 1/5
For the leek fondue: cut 4 leeks into small pieces and fry them in a little oil. Add salt and pepper, then add 1/8 cup of butter, the cream and let cook.
Step 2/5
For the salmon leek rolls: cut a leek lengthwise, remove a leek leaf, place 2 slices of smoked salmon on top and roll. Repeat for 6 rolls.
Step 3/5
In a saucepan, melt 1/8 cup of butter, then add 1/4 cup of flour, mix well, and pour 1 cup of milk little by little. When the bechamel sauce thickens, add salt and pepper and sprinkle of herbs de Provence.
Step 4/5
Cook the salmon fillets in a pan and crumble them. Break 4 eggs into a bowl and remove the yolks with a skimmer. Put the yolks aside and cook the whites in a crepe pan. Set aside.
Step 5/5
Mix 4 eggs, 2 cups of flour, and 2 cups of milk, then make 6 crepes. Line the bottom of a dish with 4 crepes, letting them hangover the edges. Place a layer of leek fondue, a layer of crumbled salmon, then cover with a crepe, béchamel sauce, the 6 salmon rolls and the rest of the bechamel sauce. Finish with a crepe, the remaining leek fondue and the remaining crumbled salmon. Close the edges of the crepes and bake for 25 minutes at 350 °F. Turn the dish over to unmould it, make 4 holes with your finger for each corner and place an egg yolk in each hole. Cover the crepe with the egg white and shredded mozzarella, then put it in the oven for 5 minutes at 350 °F. Serve with salad and enjoy.