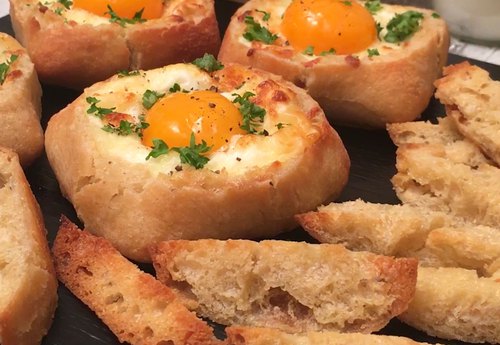 Little Breakfast Roll
Breakfast for every meal of the day!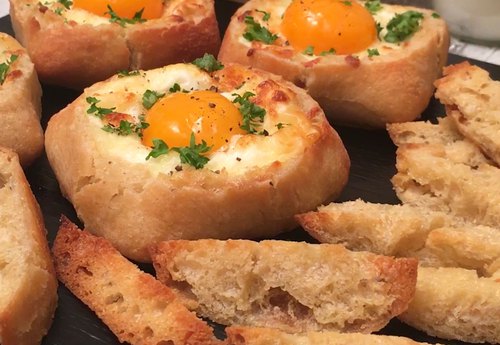 ---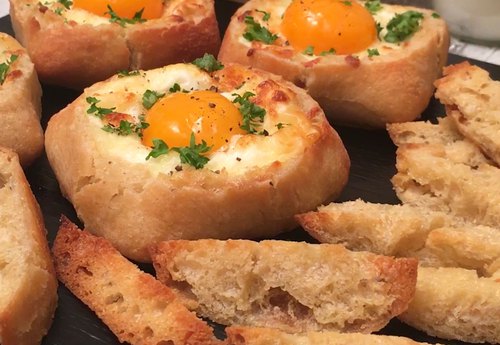 ---
Ingredients for 2 people
4 bread rolls
1/4 lb of bacon, diced
4 eggs
3/4 cup of sour cream
2/3 cup of shredded mozzarella
1/2 cup of butter
parsley
salt & pepper
---
Step 1/3
Cut the top off the bread rolls and remove the bread from the middle. Butter the bread roll lids then cut them into slices.
Step 2/3
Spread a layer of sour cream onto the bottom of the rolls. Cook the bacon and place into the rolls. Add shredded mozzarella on top of the bacon , then break an egg into each roll.
Step 3/3
Put the rolls and the breadsticks into the oven for 10 minutes at 350 °F on a baking tray. Remove the rolls from the oven, season with salt and pepper, and sprinkle with chopped parsley. Enjoy by dipping the toasted breadsticks into the cheesy-egg center.