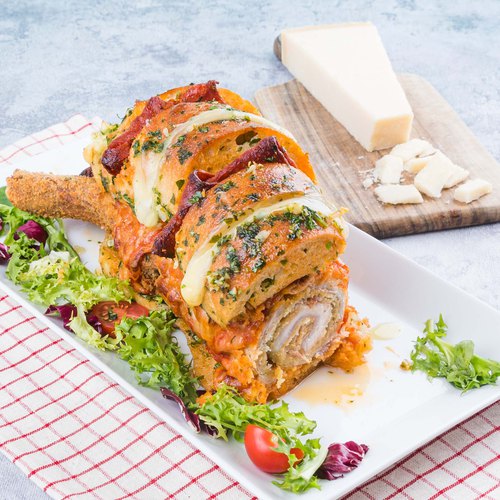 Veal Parmesan & Garlic Bread
Veal Parmesan & Garlic Bread! We took the sub sandwich to a whole new level 🤩🥪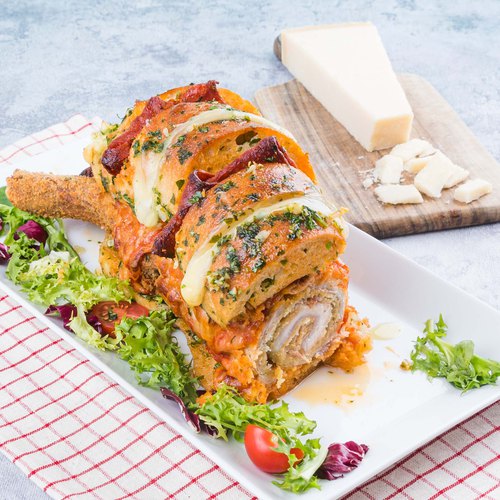 ---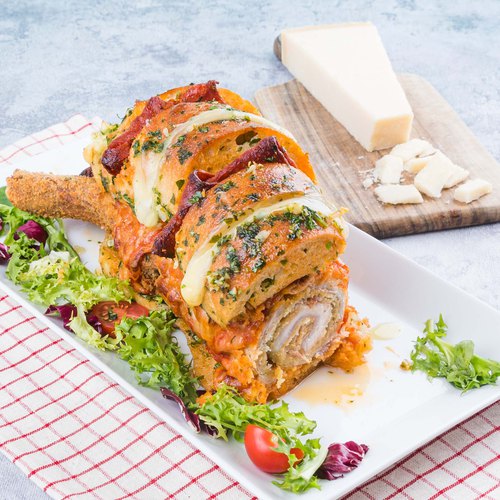 ---
Total time: 20 minutes
Cook time: 20 minutes
Ingredients for 2 people
1 veal chop
6 slices of prosciutto
Salt & pepper
6 egg
Flour
Breadcrumbs
1 1/2 cups of butter
6 cloves of garlic
1/4 cup of parsley
5 slices of chorizo
6 slices of provolone
Tomato sauce
1 oz of parmesan
2 oz of mozzarella
1 bread
---
Step 1/4
In a dish, place the veal chop and season with salt and pepper. Pour 3 eggs over the meat and coat it. Place flour in a separate dish and breadcrumbs in another. Coat the veal chop with the flour. Pass the veal in the eggs once more followed by the breadcrumbs. Make sure the veal is fully coated.
Step 2/4
Place the veal on a flat service and add 3 slices of prosciutto on top. Roll the veal on itself and secure with a skewer. Fry in hot oil until golden brown. Remove from the oil and cover with more prosciutto. Pour tomato sauce on top of the meat. Sprinkle with parmesan and mozzarella. Place on a baking tray and send to oven for 15 minutes at 350°F.
Step 3/4
Take a loaf of bread and cut slices about 1 inch apart (do not go all the way through). Coat the entire loaf in melted butter, minced garlic and parsley. Place the bread over a glass to fan out. In the cuts place provolone and chorizo (interchanging them). Bake 15 minutes at 375°F.
Step 4/4
Remove both the bread and chop from the oven. Open up the bread and place the veal chop inside. Close and enjoy!