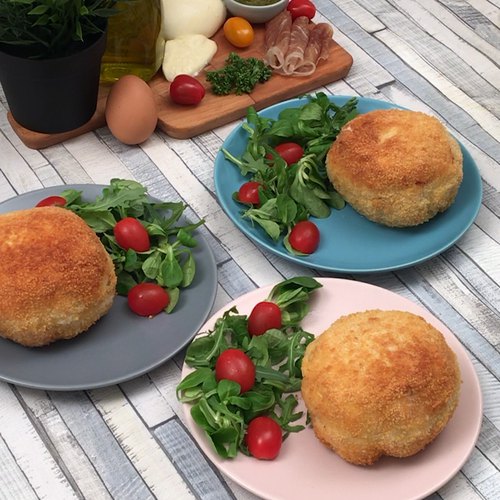 Cordon Balls
Chicken dinner with a cheesey flurrish! ❤️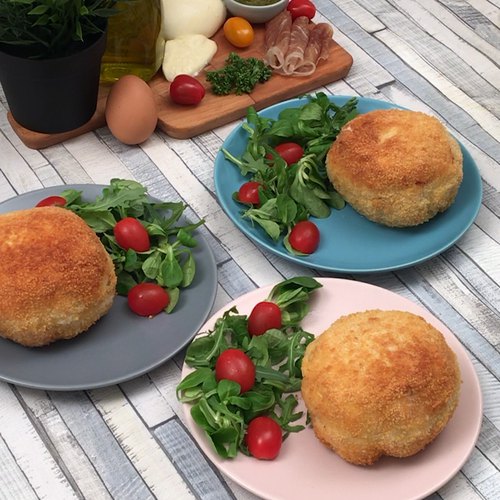 ---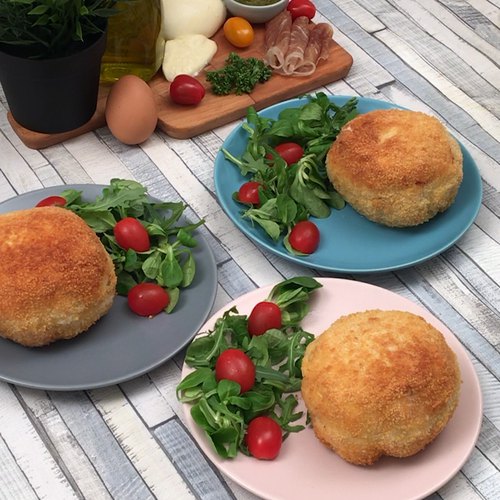 ---
Ingredients for 4 people
2 cups of pesto
4 fresh mozzarella balls
8 slices of prosciutto
8 chicken breasts
1 1/4 cups of flour
4 eggs
1 1/4 cups of breadcrumbs
vegetable oil
---
Tools
Pen cap
Freezer bag
Rolling pin
Bowls
Plastic wrap
Parchment paper
---
Step 1/4
Push the pen cap through one corner of the freezer bag creating a piping bag. Fill the bag with pesto.
Step 2/4
Stick the end of the cap into one mozzarella ball and squeeze the bag to fill the mozzarella with pesto. Repeat with the other balls. Wrap each ball in 2 slices of prosciutto.
Step 3/4
Cover the chicken breasts with parchment paper and fatten with the rolling pin. Line the bowls with plastic wrap and line each with 2 chicken breasts. Place the wrapped mozzarella balls on top and use the plastic wrap to close up the balls. Refrigerate for 1 hour.
Step 4/4
Remove the plastic wrap and bread the balls by coating completely in flour, beaten eggs, and breadcrumbs.Fry in hot oil, drain well, and enjoy!