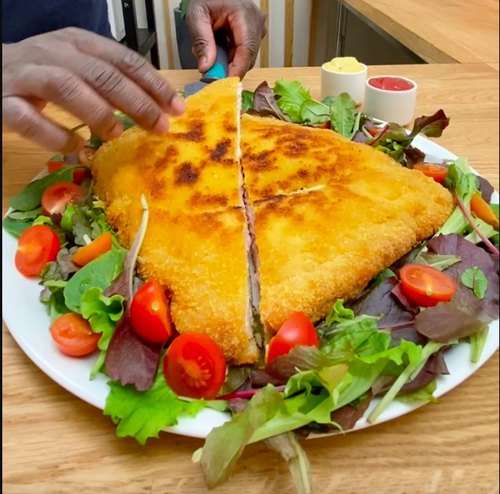 Supreme Deep Fried Turkey
Supreme Deep Fried Turkey! Oozing with cheese 💛🧀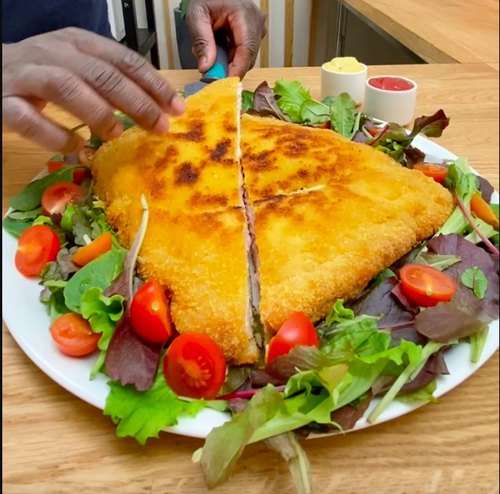 ---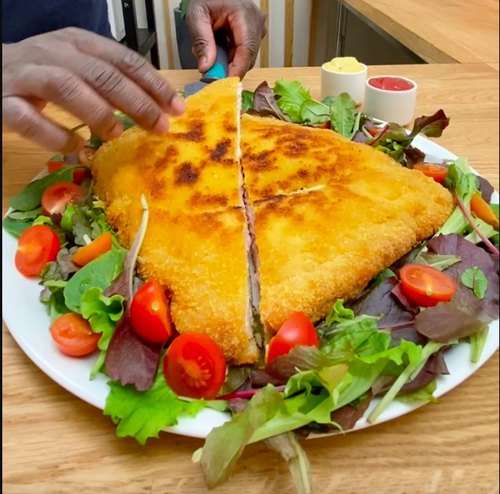 ---
Total time: 25 minutes
Cook time: 25 minutes
Ingredients for 2 people
8 potatoes
1 clove garlic
4 tbsp of heavy cream
1/2 savoie cheese
30 fingerling potatoes
2 slices of ham
1 1/4 cups of flour
1 3/4 cups of breadcrumbs
6 egg
Salad
10 cherry tomatoes
Butter
Frying oil
1.3 lbs of turkey breasts
---
Tools
Skewers
Cling wrap
---
Step 1/4
Mash the mashed potatoes and add the garlic. Pass through a sieve with a spatula to incorporate well. Place the mashed potatoes in a saucepan and melt the butter, add the heavy cream. Cut 1 large quarter of the Savoie cheese and grate it into the mashed potatoes. Cover a rectangular dish with cling wrap and pour the mixture inside. Place in the freezer.
Step 2/4
Add the fingerling potatoes on skewers. With a knife, cut around to make accordion potatoes. Fry them in hot oil. When they are golden, drain them, remove the skewers and put them back in the oil. Set aide.
Step 3/4
Slit the turkey breasts in two to open them and spread them on a flat surface. Take the mashed potato mixture out of the freezer and remove it from the dish. Cut 4 slices and place them on a turkey breast, cover with the slices of ham and add more mashed potatoes on top. Brush with butter and cover with the other turkey breast.
Step 4/4
Coat everything with flour, followed by the egg wash and breadcrumbs. Fry in hot oil until golden brown. Serve with a salad, cherry tomatoes and fingerling potatoes. Serve and enjoy!