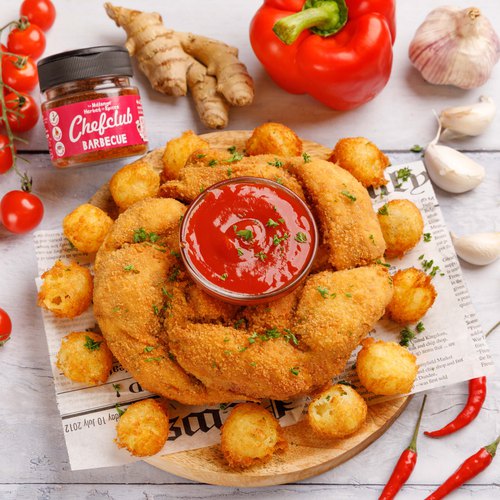 Braided Cordon Bleu Wreath
Braided Cordon Bleu Wreath! Just add mini fries for a dish to impress 😋🍟🍗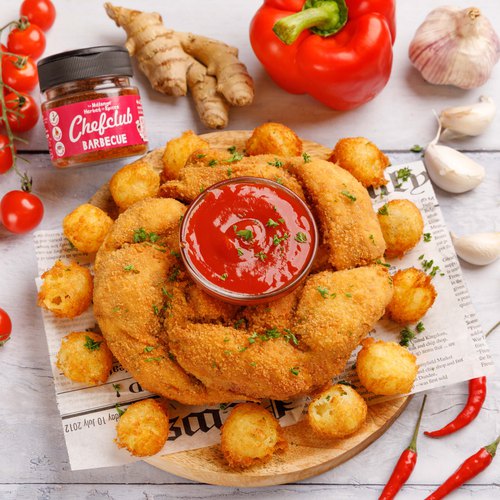 ---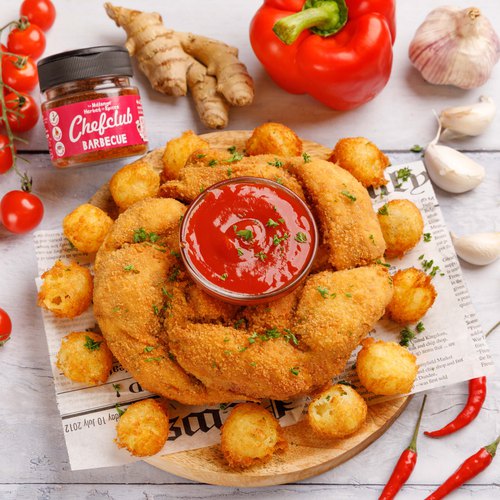 ---
Total time: 2 hours
Prep time: 40 minutes, Cook time: 20 minutes, Rest time: 1 hour
Ingredients for 3 people
6 slices of prosciutto
3 1/2 oz of mozzarella
2 chicken breasts
1 tbsp of chefclub bbq spice mix
2 tbsp of olive oil
1.3 lbs of mashed potatoes
4 egg
Flour
Breadcrumbs
Frying oil
Ketchup
Salad
---
Tools
Toothpicks
---
Step 1/3
Wrap the mozzarella in 2 slices of prosciutto. Make a V incision on the chicken without going all the way (on the thicker side). Cut the ends so that the chicken breast is in the shape of a line. Repeat the process for the other chicken breast. Braid the chicken breasts and the prosciutto. Join the end with a toothpick. Wrap the braid around a glass. Season with salt and the BBQ seasoning. Drizzle some olive oil and place in freezer for 1 hour.
Step 2/3
Make small balls with the mashed potatoes and fry in hot oil until golden brown. Set aside.
Step 3/3
Coat the meat braid in flour followed by egg yolk and breadcrumbs. Fry the meat in hot oil. Serve with the fried mashed potatoes and ketchup. Enjoy!