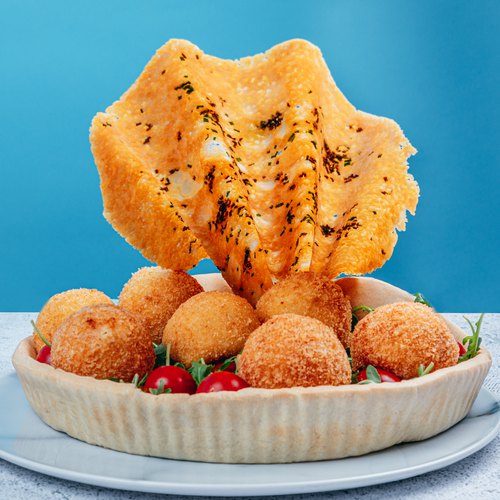 Happy As A Clam Bites
Happy As A Clam Bites! A clamorous new dish 😄🦪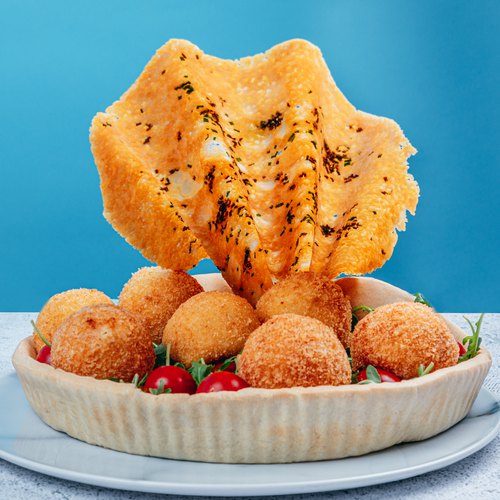 ---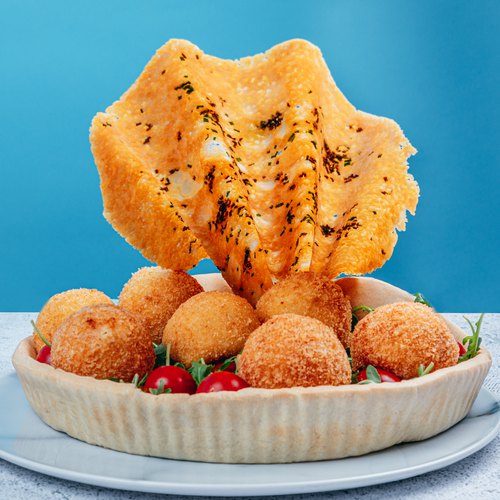 ---
Total time: 3 hours 30 minutes
Prep time: 1 hour , Cook time: 1 hour 30 minutes, Rest time: 1 hour
Ingredients for 4 people
2 tbsp of olive oil
8 oz of cream cheese
Salt & pepper
8 pearl onions
Oil
8 oz of cheese
12 oz of clams
1 red bell pepper
4 slices of bacon
1/4 cup of parsley
1 cup of flour
2 egg
1 cup of breadcrumbs
1 cup of sour cream
1 tsp of old bay seasoning
2 pizza doughs
1 tbsp of butter
3 oz of parmesan
2 cups of arugula
---
Tools
Cardboard
---
Step 1/5
Preheat the oven to 210°F. Place the cream cheese in a baking pan and place a wall of aluminum foil around it to keep it in place. Score your cream cheese, then brush with 1 tbsp of the oil and season. Place it in the oven for 1 hour. Remove your cream cheese and let it stand for 5-10 minutes. Turn the oven up to 325°F. Toss the cipollini onions in the remaining olive oil and season with salt and pepper. Roast in the oven for 30 minutes until tender.
Step 2/5
Combine the cream cheese, sour cream, shredded cheese, clams, diced bacon, diced red bell pepper, parsley, Old Bay seasoning and ground pepper in a mixing bowl. Spoon the mixture into one of the molds then add a roasted onion into the center of each. Fill the other mold with the cream cheese dip. Place the two molds together so that the cream cheese are lined up, then clamp together with the clips. Place in the freezer for at least thirty minutes. Heat the frying oil to 350°F. Once the cream cheese balls are solid, dredge each of the balls in flour, then egg, then breadcrumbs. Fry the breaded balls in the oil until crisp and golden. Refrigerate any remaining clam dip.
Step 3/5
Heat the oven to 400°F. Roll the two pieces of pizza dough together to seal them. Place them in a lightly greased pan ( 9") and push the edges into the grooves of the pan. Roll two balls of aluminum foil about the size of a small orange. Place the aluminum balls underneath the dough to create a shell shape. Brush the dough with the melted butter. Bake for 16-20 minutes. Remove from oven and allow to cool.
Step 4/5
Fold the cardboard into an accordion-like shape. Heat the crepe pan over medium-low heat. Evenly spread the parmesan over the pan and cook. Place the parmesan disc to a piece of parchment paper, then drape the cheese with the parchment paper over the cardboard. Pinch the bottom with a binder clip. Allow the cheese to cool and harden.
Step 5/5
Place arugula inside of the dough shell. Place the fried clam dip balls on top of the arugula. Add the parmesan tuile shell to the top. Serve with remaining clam dip. Enjoy!