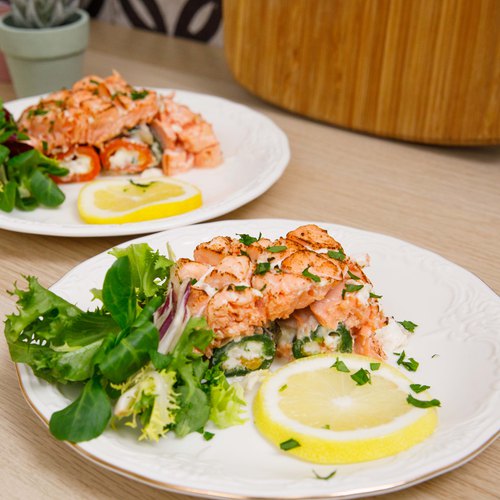 Sweet & Spicy Salmon
Sweet & Spicy Salmon! This recipe is definitely up to scale 🤩🐟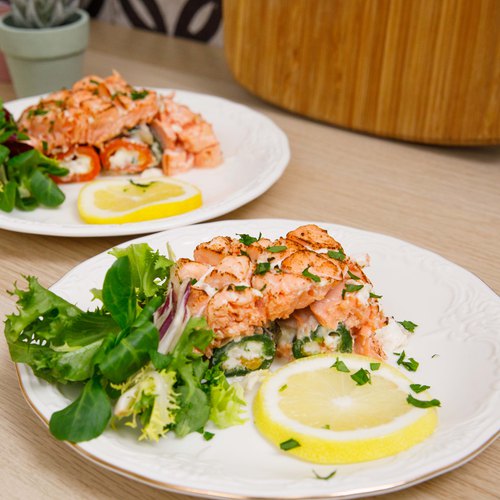 ---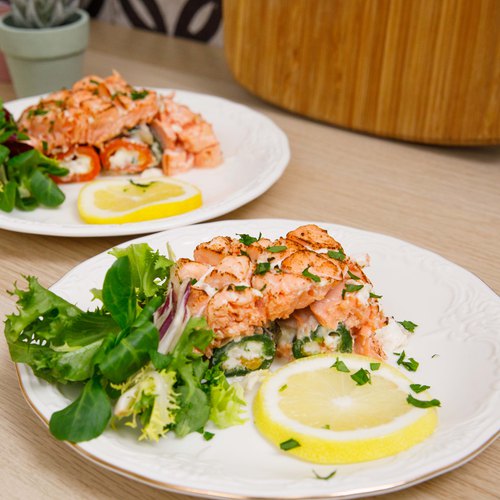 ---
Total time: 45 minutes
Cook time: 45 minutes
Ingredients for 4 people
1 1/2 lbs of salmon
1/4 cup of butter
1/2 cup of honey
5 cloves of garlic
3 tbsp of soy sauce
3 tbsp of water
3 tbsp of lemon juice
1/2 cup of cream cheese
1/4 cup of shredded cheddar
3 tbsp of parsley
8 jalapeños
1 lemon
---
Tools
Kettle
Blowtorch
Metal rack
---
Step 1/5
Add the butter to a sauté pan over medium-high heat. Once butter is melted, add garlic, water, soy sauce, honey and lemon juice and mix well to combine. Cook for about one minute, then remove from the heat.
Step 2/5
Heat about 1 liter of water in the tea kettle and bring to a boil. Place the metal rack over a baking dish. Place the salmon skin side-up on the rack. Once the water comes to a boil, slowly pour it over the skin to loosen it from the fish. Peel the skin from the fish. Discard the skin. Remove the water from the Pyrex dish and return it to the wire rack.
Step 3/5
Place the salmon on the cutting board and cut the fish in a cross-hatch pattern (be careful not to cut all the way through the fish). Place the salmon back on the wire rack. Pour the honey marinade over the salmon to cover completely. Sear the salmon with the blowtorch to slightly char it. Return the marinade that remains in the Pyrex to the sauté pan.
Step 4/5
Preheat the oven to 350°F. In a bowl add the cream cheese, shredded cheddar, and 1 tablespoon of chopped fresh herbs. Mix until combined. Fill each jalapeño with the cream cheese mixture. Add the peppers to the pyrex dish in two rows of 4 with the open ends facing each other. Bake for 10 minutes.
Step 5/5
Remove the peppers from the oven and place the salmon over the peppers to create a roll. Return to the oven and bake for about 15-18 minutes. Cut the salmon roll into servings and garnish with the remaining fresh herbs and marinade. Serve and enjoy!