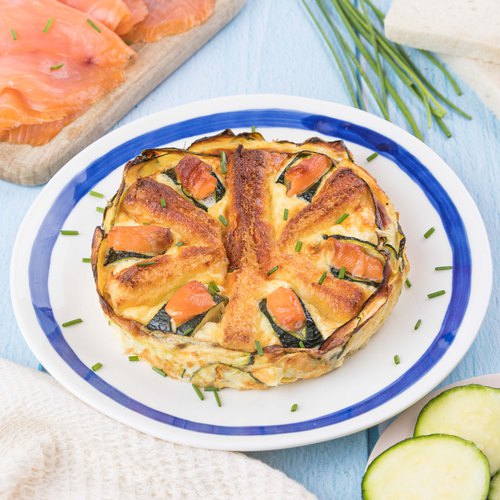 Salmon & Zucchini Quiche
Salmon & Zucchini Quiche! A shining dish just for you 😃⭐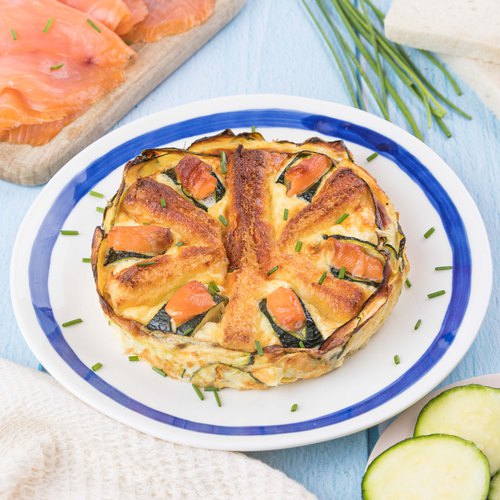 ---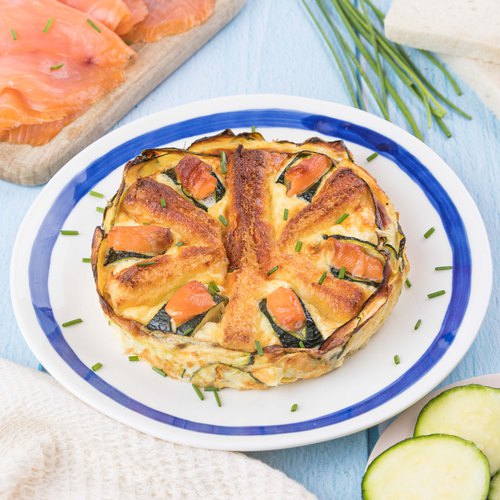 ---
Total time: 1 hour 10 minutes
Prep time: 30 minutes, Cook time: 40 minutes
Ingredients for 3 people
3 zucchinis
6 slices of smoked salmon
1/2 lemon
2 pinches of salt & pepper
3 slices of bread
2 tbsp of butter
1 oz of cheddar
1 1/4 cups of milk
3 egg
1 pinch of nutmeg
---
Tools
Ramekins
---
Step 1/4
Cut a zucchini in half lengthwise, trim the ends. Make 6 incisions on half of the zucchini, cut the zucchini into 6 using the incisions as a guide. Cut the smoked salmon into 6, squeeze the lemon over the salmon, season with a pinch of salt and pepper, and roll the salmon on themselves, then arrange them in the cuts of the zucchini. Repeat the process to get 3.
Step 2/4
Cut the second half of zucchini into thin strips. Place a small ramekin upside down and cover it with the strips, forming a grid, place a ramekin on top, turn the ramekins over and remove the small ramekin. Repeat the process to get 3.
Step 3/4
Toast the bread, press in the center of 2 slices of sandwich bread using the side of the spatula to be able to fold the sandwich bread, then place them on the buttered grill. Sprinkle a line of cheddar on the grill, let it melt, place a slice of bread on the cheddar and place it on a slice of bread to weld them together. Flip the bread and repeat the process with the last slice. Cut the bread fan into 3.
Step 4/4
Mix the milk, the eggs, a pinch of salt and pepper, the nutmeg until you obtain a smopth quiche mixture and set it aside. Sprinkle the bottom of the quiche with salmon, lay out a fan of sandwich bread, place the zucchini with the salmon in the interstices, pour in the quiche mixture and bake for 40 minutes at 340°F. Repeat the process to have 3, place them on a plate and enjoy!