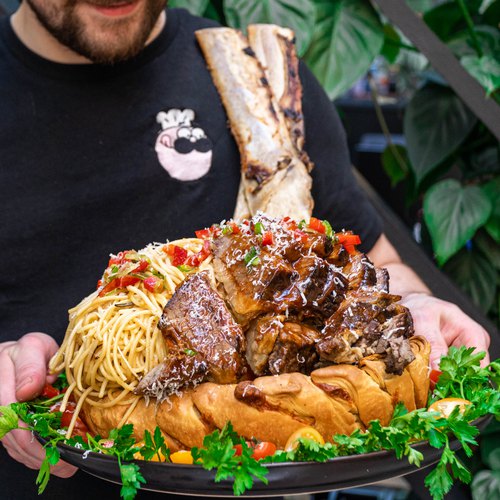 Short Rib Pasta & Garlic Bread Bowl
Short Rib Pasta & Garlic Bread Bowl! Sink your teeth into this savory recipe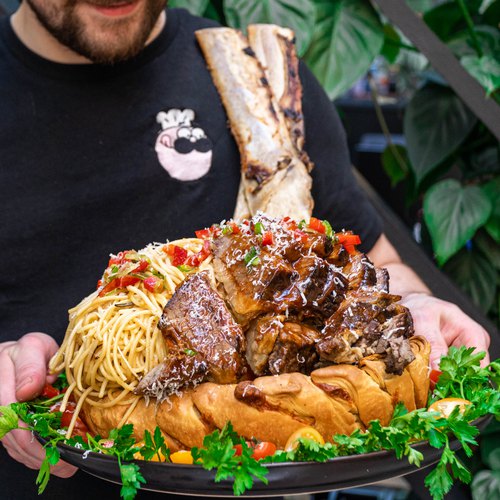 ---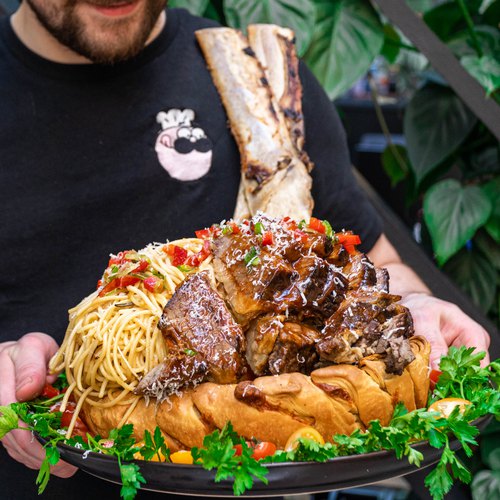 ---
Total time: 2 hours 50 minutes
Prep time: 20 minutes, Cook time: 2 hours 30 minutes
Ingredients for 6 people
Butter
Ribs
Spaghetti
Thyme
Garlic
Onions
Carrots
Salt & pepper
Oranges
Orange juice
Pizza dough
Cheddar
Egg yolk
Parmesan
Tomatoes
Roasted garlic
---
Step 1/3
On the grill, cook the ribs in butter until seared. Add chopped onions, carrots, and thyme and let it brown on both sides. Season with salt and pepper. Transfer to an oven-safe dish and top with oranges, garlic, orange juice, and hot water. Cover with foil and bake until fully cooked.
Step 2/3
Take the ribs out of the container and use the cooking juices to cook the spaghetti. Slice the ribs into pieces, wrap the spaghetti around the bones, and arrange them on a plate.
Step 3/3
Sprinkle flour over the pizza dough, then layer it with shredded cheddar and palce an egg yolk in the middle. Enclose the cheese by folding the dough over it and cut around the circumference to create a sun-like shape. Apply roasted garlic onto the dough, compressing it with a metal bowl, and bake until fully cooked. Place all elements on a serving place, sprinkle with parmesan cheese, serve and enjoy!