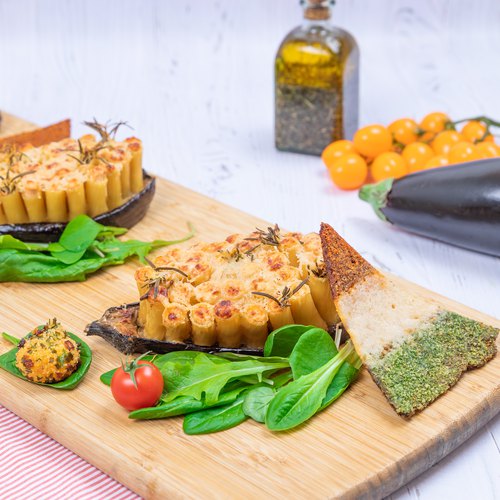 Eggplant Pasta Bake
Eggplant Pasta Bake! Just like your grandma's 🍝🍆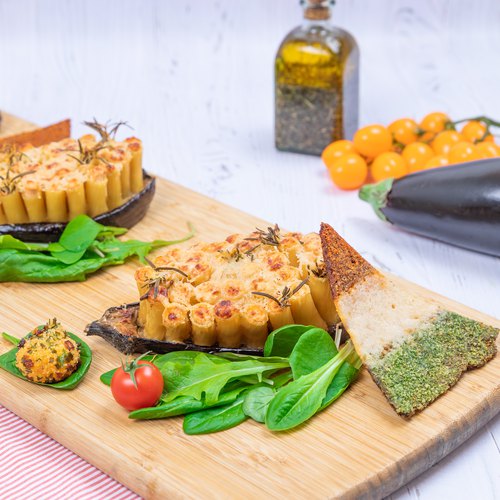 ---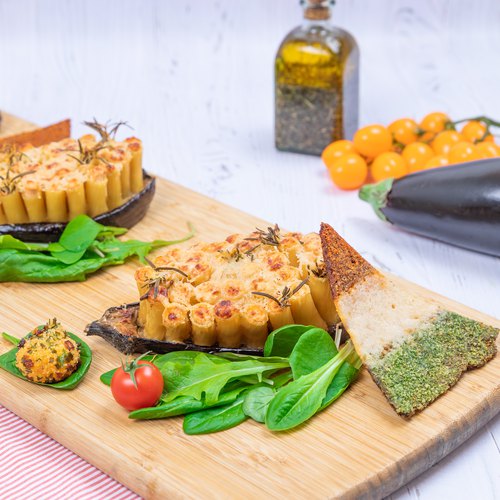 ---
Total time: 1 hour 40 minutes
Prep time: 1 hour , Cook time: 30 minutes, Rest time: 10 minutes
Ingredients for 3 people
2 eggplants
1 lb of rigatoni
1 mozzarella
1 lb of ricotta cheese
1 cup of tomato sauce
3 egg yolks
10 tbsp of breadcrumbs
Oil
1 lb of parmesan
10 tsp of paprika
10 tsp of parsley
---
Tools
Pizza cutter
---
Step 1/3
Cut the eggplants in half. Mix the flesh with mozzarella. Garnish the rigatoni with ricotta and place upright in the eggplant. Cover with tomato sauce and bake 30 minutes at 350°F.
Step 2/3
Coat the egg yolks in breadcrumbs. Fry in hot oil for 30 seconds.
Step 3/3
Divide the parmesan into 3, make 1 green (parsley) 1 red (paprika) and 1 plain. Place on the plancha to create the Italian flag. Allow to become crispy then cut into triangles using a pizza cutter. Serve with the egg yolks and pasta bake. Enjoy!