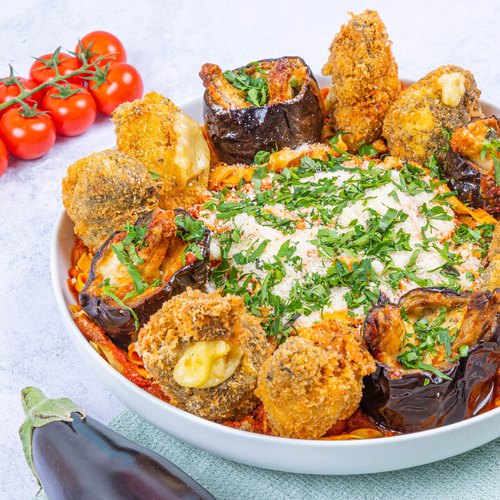 Chicken & Eggplant Parmesan
Chicken & Eggplant Parmesan! Indulge in a hearty & satisfying meal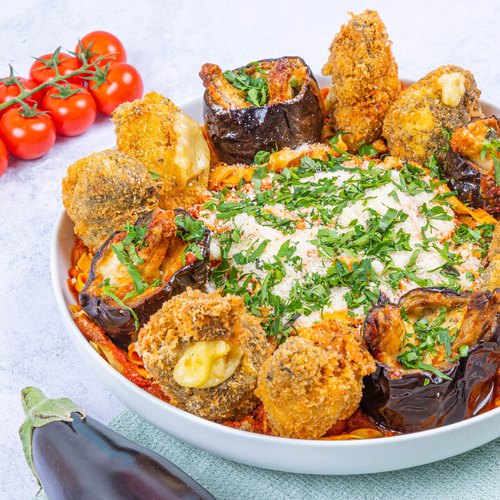 ---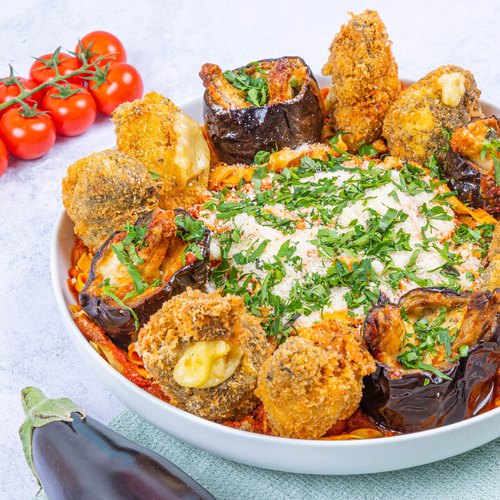 ---
Total time: 1 hour 10 minutes
Prep time: 10 minutes, Cook time: 1 hour
Ingredients for 4 people
4 eggplants
2 onion
1 red bell pepper
1 yellow bell pepper
1 green bell pepper
Garlic
3 cups of tomato sauce
Basil
2 tbsp of italian seasoning
5 tbsp of olive oil
6 tbsp of parmesan
1 lb of tagliatelle pasta
8 chicken
2 cups of shredded mozzarella
Butter
---
Step 1/4
In a baking dish, combine garlic, butter, olive oil, and basil. Roast in the oven at 400°F for 30-40 minutes.
Step 2/4
Remove the top and bottom of the eggplant, hollow out the center, and fill it with mozzarella and cooked chicken. Brush the eggplant with garlic butter and grill until cooked.
Step 3/4
Pour a ladle of garlic butter into a skillet and add the chopped inner part of the eggplant, diced onions, bell peppers, roasted garlic, tomato sauce, and season with salt to taste. Place the stuffed eggplants in the sauce, top with shredded mozzarella, and bake until cooked through.
Step 4/4
Plate the stuffed eggplant alongside a serving of tagliatelle pasta, then sprinkle with parmesan and basil leaves. Enjoy!