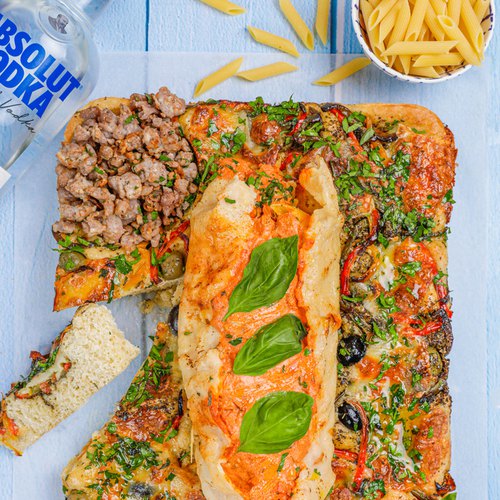 Detroit Vodka Pizza
Detroit Vodka Pizza! A dish straight from Motor City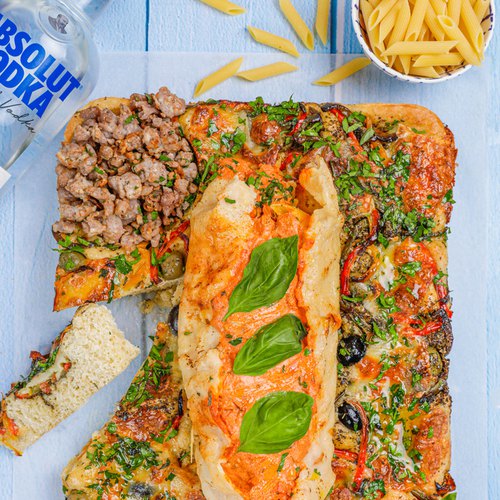 ---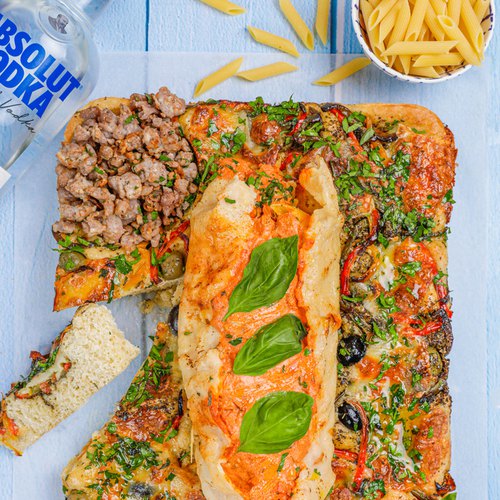 ---
Total time: 45 minutes
Prep time: 15 minutes, Cook time: 25 minutes, Rest time: 5 minutes
Ingredients for 8 people
Pizza dough
Vodka
Olives
Oregano
Italian seasoning
Bell peppers
Mozzarella
Parmesan
Caramelized onions
Garlic
Heavy cream
Tomato puree
Pasta
Bacon
Parsley
Sausage
Basil
---
Step 1/3
Press the pizza dough into a rectangular baking sheet, add vodka-infused olives on top and place the empty vodka bottle in the center. Sprinkle with oregano and press 2 small ramekins into the pizza dough. Top the pizza dough with roasted bell peppers and slices of mozzarella cheese. Allow to rise 1 hour then bake at 475°F for 15-20 minutes.
Step 2/3
Sprinkle the grill with parmesan in the shape of a vodka bottle, allow to melt and drape around the bottle to shape and set aside to harden. Add the caramelized onions to a pan with vodka, roasted garlic, heavy cream and tomato puree. Heat the cooked pasta, sprinkle with parmesan and place in the bottle-shaped parmesan tuile. Top with the vodka sauce and basil.
Step 3/3
Remove the vodka bottle and ramekins from the pizza. Fill the small holes with vodka sauce, cooked bacon and fried sausage. Place the bottle-shaped parmesan tuile and pasta in the center. Sprinkle with parsley and basil. Enjoy!