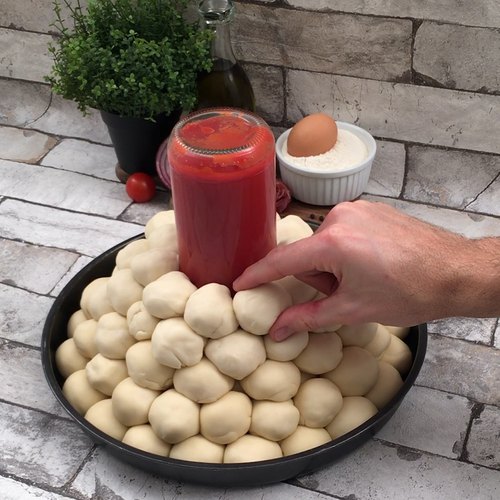 Pizza Pull-Apart Tower
Pizza Pull-Apart Tower! Be the envy of every party! 😍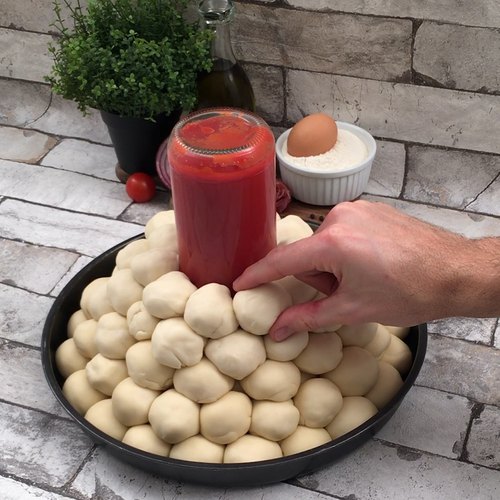 ---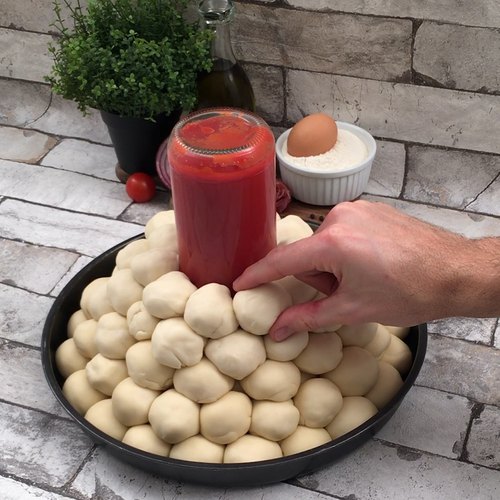 ---
Ingredients for 6 people
4 1/4 cups of tomato sauce
basil
salt & pepper
pizza dough
13 slices of ham
13 slices of prosciutto
25 slices of salami
20 mini mozzarella
parmesan
swiss cheese
basil, for garnish
---
Step 1/3
Pour the chopped basil, salt and pepper into the bottle of tomato sauce. Glue the edge of the bottle of open tomato puree to the center of a cake mold and turn the bottle upside down without ever moving it from the mold. The bottle must be turned upside down in the center of the cake tin.
Step 2/3
Roll out the pizza dough and make circles out of it with the help of a round form or the edge of a glass. Stuff one third of the cuttings with 1 slice of ham and grated Parmesan cheese, another third with bacon and a cube of Swiss cheese and the remaining circles of dough with a slice of salami and a mozzarella.
Step 3/3
Roll the discs to form balls and overlap them around the bottle inside the mold, so as to sign a pyramid. Bake for 20 minutes at 350 °F. Once out of the oven, remove the bottle from the center of the cake tin and let the tomato sauce pour over the dough balls. Sprinkle with chopped basil and taste by dipping the stuffed balls into the tomato sauce.