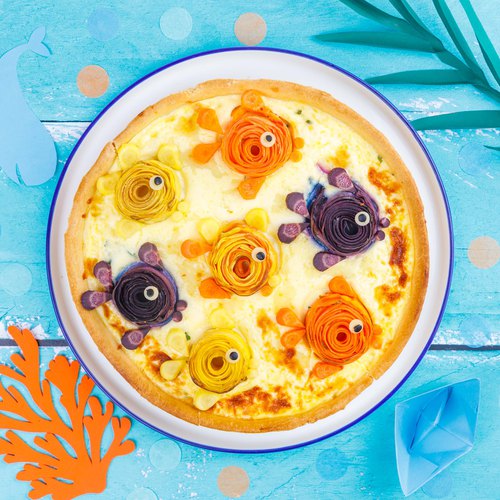 Ocean Quiche
Ocean Quiche! Time to dive in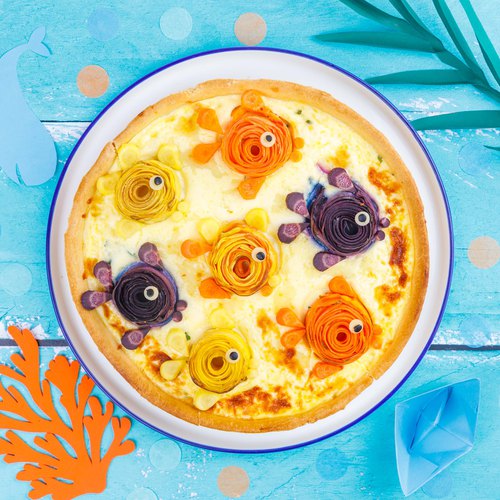 ---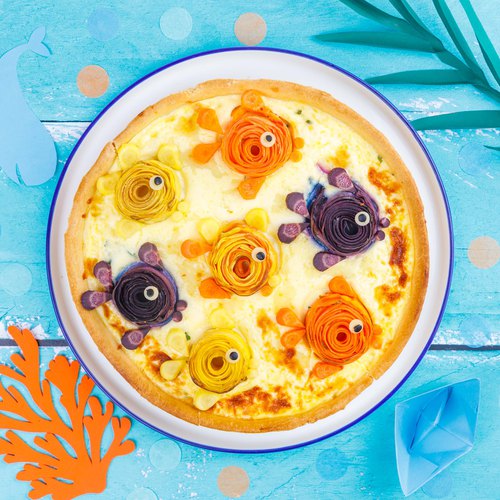 ---
Total time: 1 hour 10 minutes
Prep time: 30 minutes, Cook time: 40 minutes
Ingredients for 4 people
1 pie dough
5 egg
2 cups of heavy cream
3 orange carrots
2 yellow carrots
2 purple carrots
1/2 cup of mozzarella
1 slice of swiss cheese
2 black olives
parsley
salt & pepper
---
Tools
Pie pan
Peeler
---
Step 1/4
Lay the pie dough in the pie pan. Mix the eggs, heavy cream, salt, pepper, and chopped parsley and pour half of this mixture into the pie. Bake for 20 minutes at 350 °F.
Step 2/4
Cut 2 slices from each carrot and then cut them all into very thin strips using the peeler. Roll all the strips of each carrot together to form 7 rolls.
Step 3/4
Remove the quiche from the oven, place all the rolls on their sides on top, and pour the remaining egg and cream mixture around them. Sprinkle with grated mozzarella cheese and bake for 20 min at 350 °F.
Step 4/4
Cut out 12 orange, 8 purple, and 8 yellow drops from the cut-out rounds as well as 4 small purple, 4 small yellow, and 6 small orange discs. Place 2 drops at the back of each carrot roll, 1 at the top, and 1 at the bottom and place 2 discs at the front to form fish. Draw eyes on each roll with a small disc of swiss cheese and a piece of black olive. Slice and enjoy!