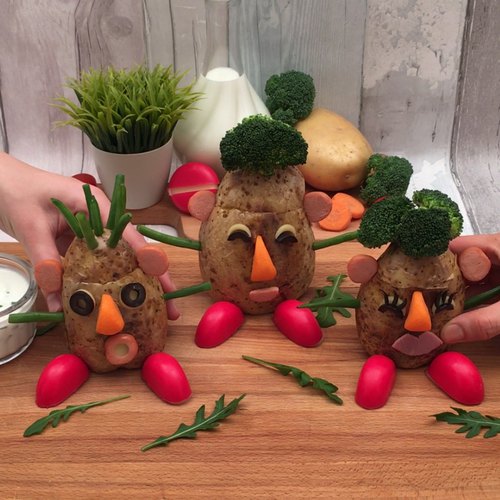 Mr. Potato Head
Hey, Hamm. Look, I'm Picasso! ;)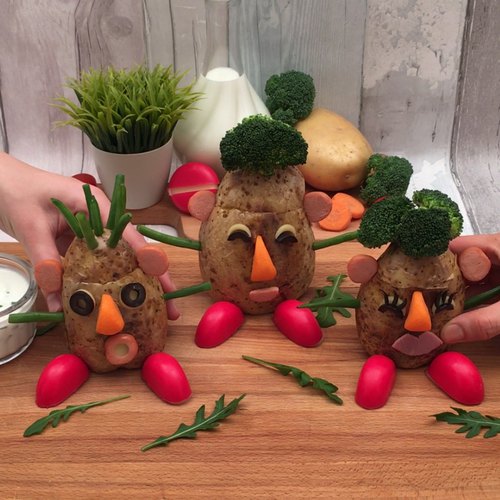 ---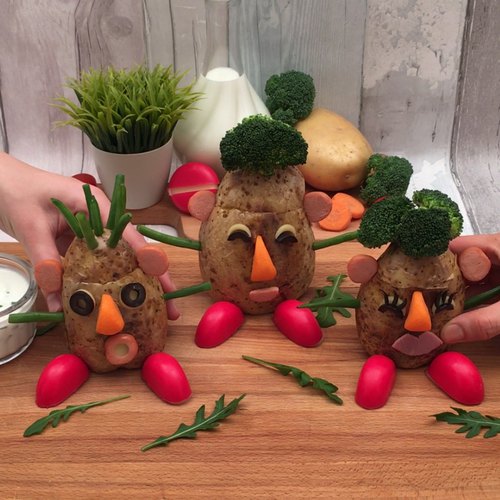 ---
Ingredients for 3 people
3 large potatoes
3/4 bacon, diced
4 tbsp of sour cream
1/4 cup of mozzarella, grated
3 babybel ®
1 carrot
5 cocktail sausages
1 slice of swiss cheese
2 black olives
green beans
broccoli
olive oil
---
Tools
Baking tray
Parchment paper
---
Step 1/4
Place the potatoes on the baking tray lined with parchment paper, drizzle with olive oil, and bake for 1 hour at 400 °F. When they come out of the oven, cut both ends off of the potatoes, stand them upright, and remove their flesh with a spoon.
Step 2/4
Mix the removed flesh with the fried bacon, sour cream, and grated mozzarella. Stuff the potatoes with the mixture and close them with the previously removed tops.
Step 3/4
Cut the Babybel ® in 2 without removing the wax. Place 2 halves in front of each potato to make feet. Peel the carrot, cut out 3 noses, and stick them to the potatoes.
Step 4/4
Make ears and mouths from the cocktail sausages and eyes from the slice of swiss cheese and black olives. Stick cooked green beans on the sides as arms and other beans on the top and cooked broccoli on the top for hair. Devour Mr. Potato with white sauce.
Similar recipes from Chefclub
-
Our other recipes