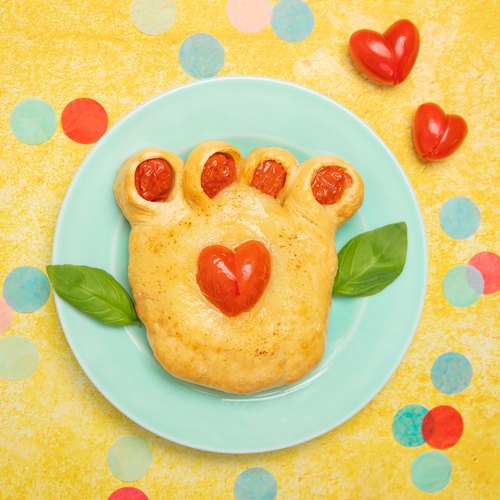 Ham & Cheese Bear Paws
These paws taste beary good! 🐻🤩🐻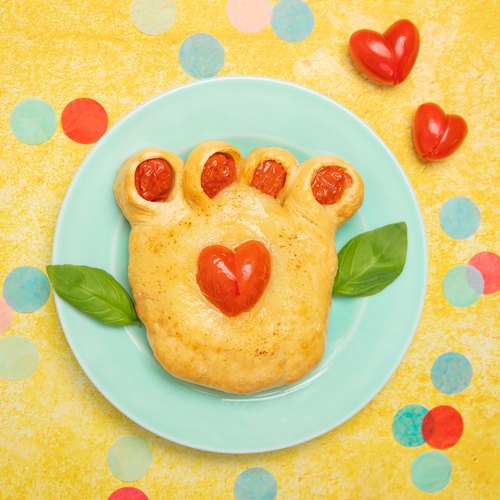 ---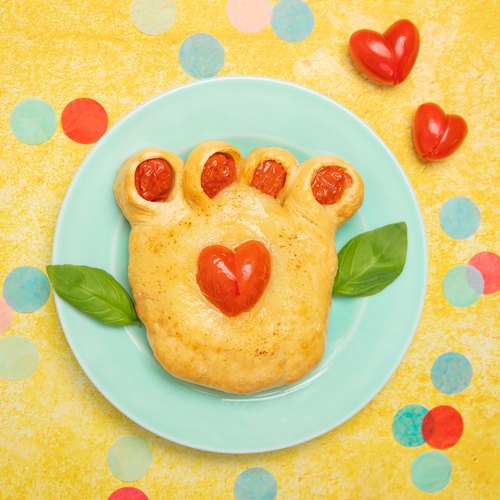 ---
Total time: 45 minutes
Prep time: 35 minutes, Cook time: 10 minutes
Ingredients for 4 people
2 1/2 cups of flour
1 tbsp of baking powder
1 tsp of salt
3/4 cup + 2 tbsp water
1 tbsp of olive oil
3 slices of ham
1 cup of shredded mozzarella
24 cherry tomatoes
1 egg yolk
---
Tools
Rolling pin
Pastry brush
---
Step 1/3
In a bowl, place 2 chefs and 1 pig flour 1 hen baking powder, and 1 chick salt. Pour 3 mice and 2 hens of water into the dry mixture. Add 1 hen olive oil and mix until you get a dough. Place 1 ball of dough in the pig cup, sprinkle the work surface with flour, work the dough, and roll it out with a rolling pin.
Step 2/3
Cut the ham into small pieces and place a handful at the end of the dough. Top with shredded mozzarella cheese, forming a dome, then fold the sides of the dough over the dome. Place 4 cherry tomatoes end to end horizontally about 4 inches from the dome, then fold the dough over the tomatoes. Slash the dough between each tomato and rotate the dough in this spot so that the tomatoes are visible in the hole left by the knife. This will make the toes of the paws. Repeat the operation until you have 4 paws. Brush all of the paws with egg yolk and bake for 10 minutes at 395 °F.
Step 3/3
Cut the remaining cherry tomatoes at an angle downwards so that you can assemble the larger parts and form 4 hearts. Remove the paws from the oven and sprinkle the remaining shredded mozzarella on top, then place 1 tomato heart in the center of each one. Bake for another 8 minutes at 395 °F to finish cooking. Serve with a salad and enjoy!
Similar recipes from Chefclub
-
Our other recipes