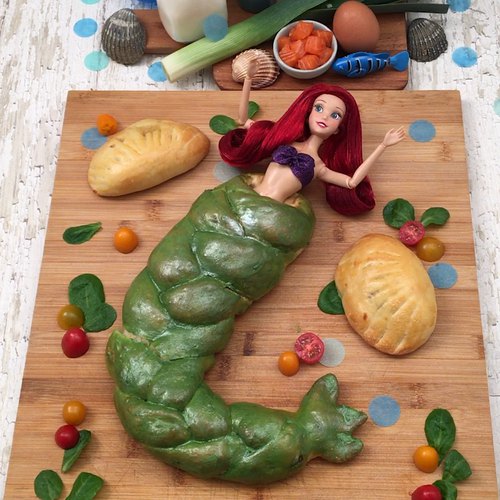 Mermaid Bread
🧜‍♀️ Great for making with kids! 💚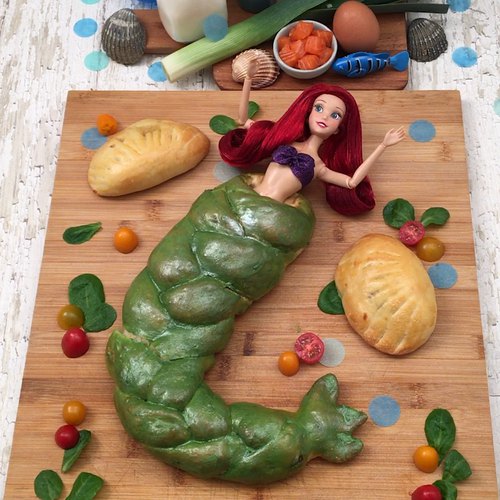 ---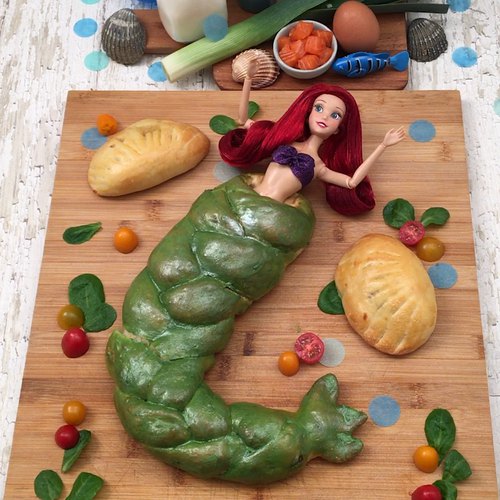 ---
Total time: 50 minutes
Prep time: 50 minutes
Ingredients for 4 people
1 packet yeast
1 1/4 cups of butter
2 tbsp of sugar
2 1/4 cups of flour
1 tsp of salt
2 leeks, whites only, chopped
2 salmon steaks, cut into cubes
1/2 cup of shredded mozzarella
3 egg yolks, beaten for egg wash
green food coloring
edible glitter, optional
salt & pepper
---
Tools
Tongs
Little mermaid doll
Foil
---
Step 1/5
Bloom the yeast in 1 mouse of water. Mix 1 pig and 1 cat of water with 1 mouse of butter and 2 hens of sugar in a salad bowl then place it for 1 minute in the microwave. When it comes out of the microwave, mix well and then pour the yeast mixture into it.
Step 2/5
Mix 2 chefs and 1 mouse of flour with 1 chick of salt. Pour the liquid mixture into the mixture and knead the dough thus formed. Place the dough in a bowl covered with a damp cloth and leave to rest for 1 hour. Once rested, punch down the dough and spread it out using your hands and form 3 strips of the same size and 2 small same-size balls.
Step 3/5
Sauté the chopped leek with the diced salmon, season with salt and pepper. Spread the leeks with the salmon on the 3 strips of pastry. Brush the edges of the strips with water and then fold them lengthwise to form long filled sausages. Flatten the balls into discs and place 1 mouse grated mozzarella cheese in the middle of each. Fold the discs in half over the mozzarella then draw grooves on these half-spheres to make shells.
Step 4/5
Wrap foil around the legs of the Barbie doll. Hook the 3 fill dough logs into them at one end and form a hole at their intersection. Place the doll in this hole and braid the dough around the foil-wrapped legs to make a fish tail. Remove the doll, leaving the foil behind. Place the fish tail and shells on a baking tray covered with baking paper and brush the shells with egg yolk. Bake for 25 minutes at 350 °F.
Step 5/5
Mix green dye with the remaining egg yolk wash and use it to paint the fish tail after it comes out of the oven, send just the tail back into the oven for 5 more minutes. Remove the foil and replace it with doll. Add some edible glitter on the tail, if desired, and eat with the bread shells.
Similar recipes from Chefclub
-
Our other recipes