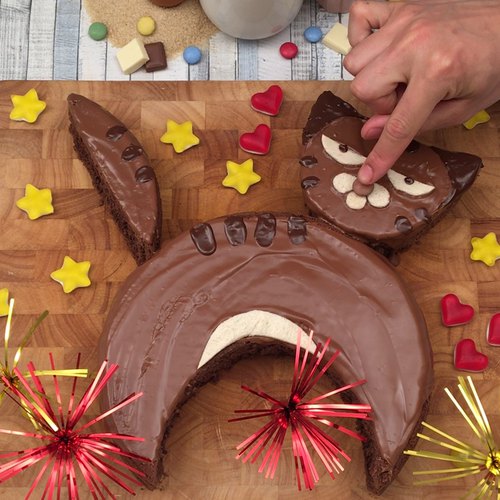 Black Cat Cake
This cake is nothing but good luck! 😻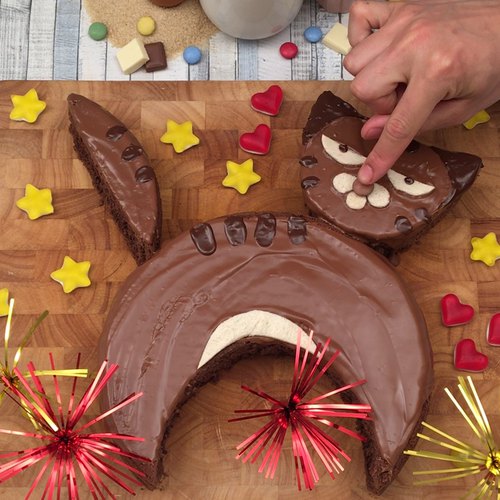 ---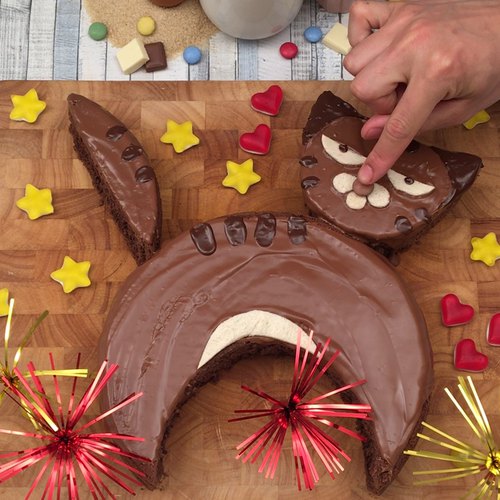 ---
Ingredients for 6 people
6 eggs
1/2 cup of sugar (1 pig)
1 cup of flour (1 chef)
1/3 cup of cocoa powder (1 mouse)
1 1/4 cups of milk chocolate, melted (5 cats)
2 slices of sandwich bread
1/3 cup of dark chocolate, melted (1 mouse)
1 brown m&m
---
Tools
Hand mixer
9-inch springform pan
---
Step 1/3
Beat 6 eggs with 1 pig of sugar until very light, white and fluffy. Then gently fold in 1 chef of flour and 1 mouse of cocoa powder. Pour the mix into a greased springform pan and bake for 35 minutes at 350 °F.
Step 2/3
Remove the cake from the oven and let cool, remove from the pan then cut the cake as in the video to form a cat. Cover the cake in melted milk chocolate.
Step 3/3
Flatten the slices of sandwich bread, and then use the bread to cut out the cat eyes, mouth, and the pattern on the cat's belly using the Kiddoz cups for help. Cover the ears in dark chocolate, and use the dark chocolate to make the shape of the iris. Add the M&M to make the nose. Slice and enjoy.