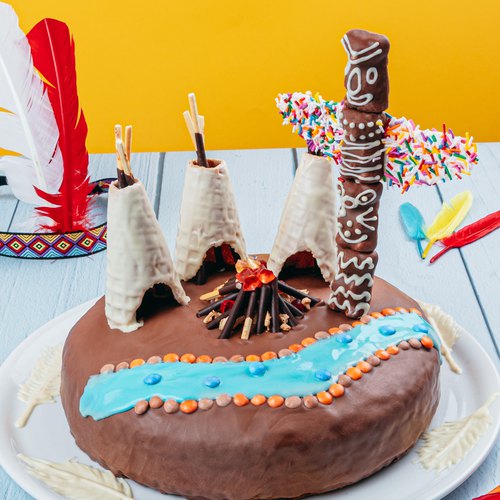 Native American Cake
Native American Cake! A wonderful recipe to do with the kids 😁🛶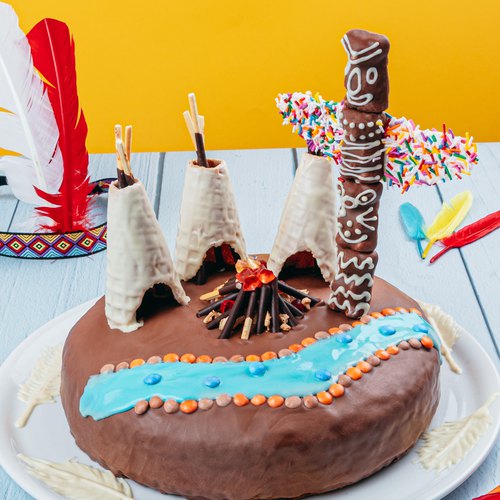 ---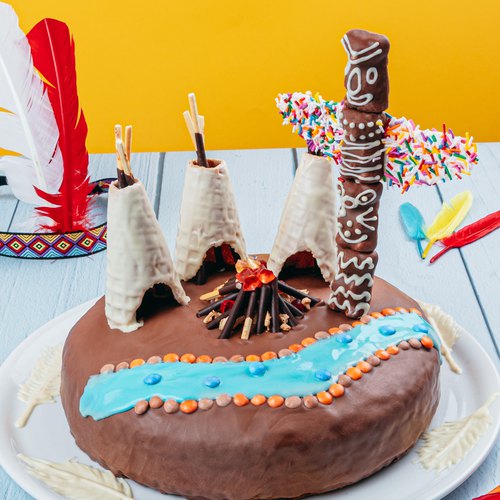 ---
Total time: 1 hour 40 minutes
Prep time: 45 minutes, Cook time: 35 minutes, Rest time: 20 minutes
Ingredients for 6 people
12 pocky sticks
6 egg
1 1/2 cups of sugar
1 cup of flour
2 tsp of baking powder
0.3 cup of cocoa powder
4 tbsp of butter
9 oz of milk chocolate
1 bag of chocolate candies
3 ice cream cones
4 marshmallow bears
4 gummy bears
9 oz of white chocolate
Sprinkles
---
Tools
Electric hand mixer
parchment paper
Skewers
---
Step 1/4
Mix the eggs, 1 pig and 1 cat of sugar with an electric mixer until smooth. Add 1 chef of flour, 1 hen of baking powder, 1 mouse of cocoa and mix. Melt 1 mouse of butter and add it to the preparation. Line the springform pan with parchment paper, pour in the batter and bake for 35 minutes at 350°F.
Step 2/4
Melt 1 chef of milk chocolate and coat the cake. Trace the outline of a river with 2 rows of chocolate candies at the end of the cake. Crumble part of an ice cream cone, place the crumbled cone in the middle of the cake, break 3 chocolate pocky sticks and balance them on the crumbled cone to form a fire. Cut the gummy bear candies in 2 and place them in the center of the chocolate sticks to form the flames of the fire and set aside.
Step 3/4
Skewer 4 marshmallow bears on a skewer. Melt 1 head of white chocolate, form a parchment paper cone, pour some of the white chocolate into the cone, draw white chocolate dots on the marshmallow bears to form a totem. Pour 2 white chocolate chicks on the baking mat, spread them to form 2 strips, bind them with a point of white chocolate, place the marshmallow bear totem on the point of white chocolate between the 2 strips. Sprinkle the strips of white chocolate with 1 hen of rainbow sprinkles. Cut the end of the cones, cover them with the rest of the white chocolate, place them upside down and vertically on the baking mat. Place 3 chocolate pocly sticks in each cone and refrigerate for 20 minutes.
Step 4/4
Melt 1 mouse of white chocolate, add the blue food coloring and mix to obtain blue chocolate. Pour the blue chocolate between the rows of chocolate candies to form the river. Place chocolate candies on the melted blue chocolate. Place the tepees and the totem on the cake. Serve and enjoy!