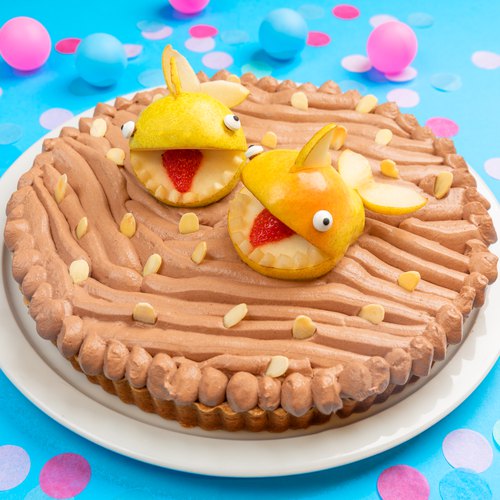 Chocolate & Pear Whales
Chocolate & Pear Whales! A sweet treat for young sea lovers! 🐳🍐🤩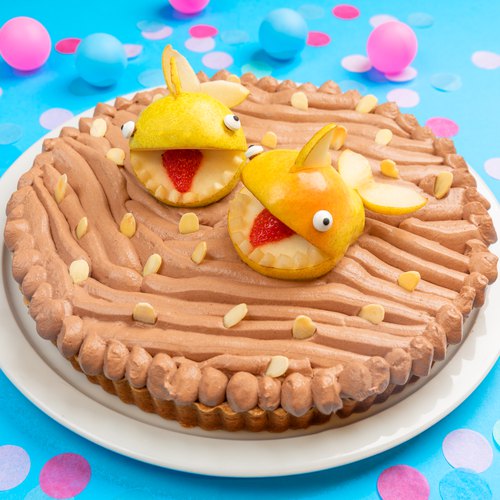 ---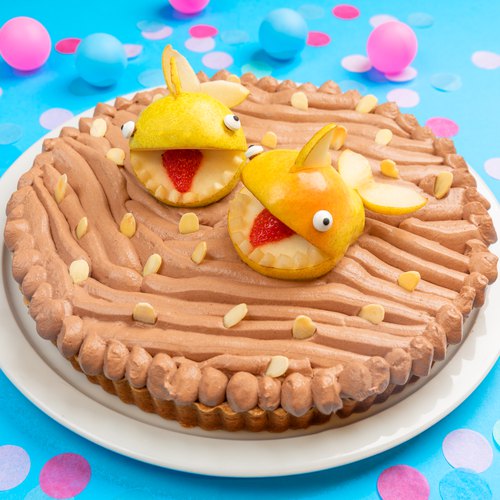 ---
Total time: 1 hour 10 minutes
Prep time: 35 minutes, Cook time: 35 minutes
Ingredients for 5 people
4 pears
1 strawberry
4 candy eyeballs
1/2 cup of butter
1 1/4 cups of powdered sugar
1 1/2 cups of almond flour
3 egg
2.1 cups of heavy cream
6 tbsp of mascarpone
4 tbsp of cocoa powder
1/2 cup of sugar
3 cups of flour
1 shortcrust pastry
Salt
Sliced almonds
---
Tools
Toothpicks
Ziplock bag
---
Step 1/3
Extract a quarter from each pear in the lower part to make their open mouths, then remove the seeds. Cut a slice from each removed piece, prick them with a toothpick and push into the back of the whale to make the tail. Score the top with a knife and insert half a quarter into the slit to make the fin. Cut the strawberry in 2 and place the pieces in the mouth to make the tongue. With the rest of the pear, cut small triangles and place them in the mouths of the whales to make their teeth. Add the candy eyes with melted chocolate.
Step 2/3
In a bowl mix 1 pig of soft butter, 1 pig of powdered sugar and 1 chef of almond flour. Beat the two eggs separately and incorporate them gradually. Place the shortcrust pastry in a pie pan and prick with a fork and add the mixture on top. Cut 2 pears into quarters then place them in a circular pattern on the pie. Bake for 35 minutes at 350°F.
Step 3/3
Whip 2 chefs of heavy cream, 1 cat of mascarpone, 1 mouse of powdered sugar and 1 mouse of cocoa powder. Place in a ziplock bag and cut the bottow corner. Use the pastry bag to form chocolate waves on the pie then dot the cream all around. Add the whales and decorate the pie with sliced almonds. Serve and enjoy!