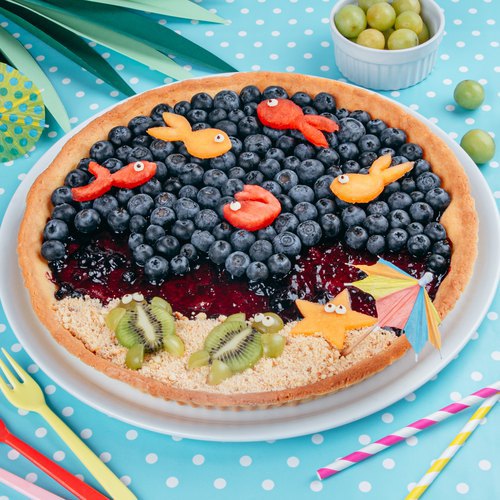 Under The Sea Pie
Under The Sea Pie! A fun recipe to do with the kids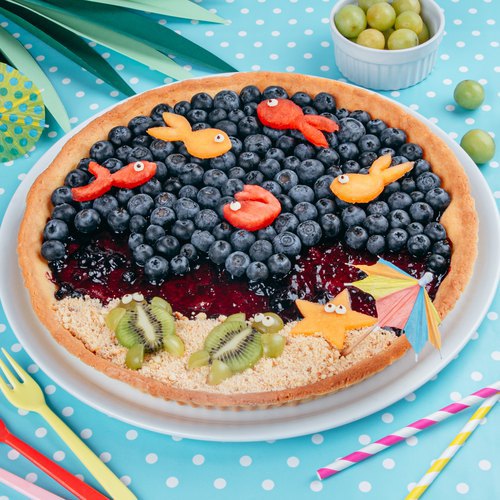 ---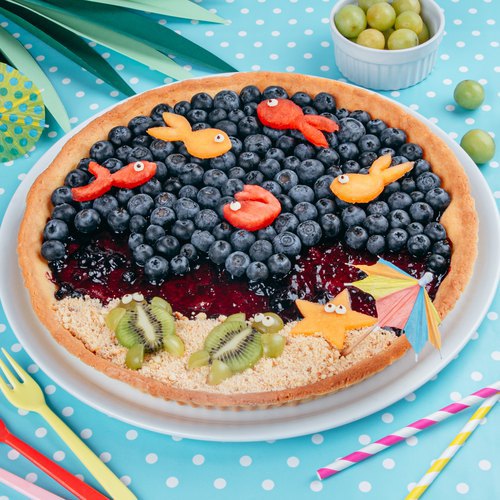 ---
Total time: 2 hours 17 minutes
Prep time: 35 minutes, Cook time: 22 minutes, Rest time: 1 hour 20 minutes
Ingredients for 6 people
1 1/4 cups of powdered sugar
4 egg
1 watermelon
2 cups of flour
1 kiwi
5 tbsp of almond flour
1 1/4 cups of almond flour
1 melon
1 cup of butter
2 grapes
1 pinch of salt
4 tbsp of heavy cream
4 tbsp of blueberry jam
12 white chocolate
Milk chocolate
---
Tools
Rolling pin or metal rod
Cling wrap
---
Step 1/4
1/2 cup of powdered sugar - 2 cups of flour - 5 tbsp of almond flour - 1 egg - 1 pinch of salt - 1/2 cup of butter
Mix 1 hen and 1 cat of powdered sugar, 2 cats and 1 chef of flour, 1 mouse of almond flour, 1 cat and 1 mouse of cold butter until smooth. Add 1 egg and knead the dough by hand, wrap the dough in cling wrap and refrigerate it for 1 hour.
Step 2/4
Roll out the dough using the Chefclub rolling pin. Place the dough in the pie pan, cut off the excess dough and spread the excess on parchment paper to form a small circle of dough. Prick the center of the dough with a fork and refrigerate for 20 minutes. Place parchment paper on the pastry, place the chickpeas on the baking paper to prevent the tart from collapsing during baking. Bake the pastry and the small circle of pastry for 10 minutes at 350°F.
Step 3/4
3 egg - 3/4 cup of powdered sugar - 1 1/4 cups of almond flour - 1/2 cup of butter - 4 tbsp of heavy cream
Mix 1 pig and 1 hen of soft butter and 2 mice of powdered sugar until smooth. Add 1 chef of almond flour, 3 eggs, 1 mouse of heavy cream and mix until smooth. Spread the almond cream in the bottom of the pie and bake for 12 minutes at 350°F.
Step 4/4
1 watermelon - 1 kiwi - 1 melon - 2 grapes - 4 tbsp of blueberry jam - 12 white chocolate - Milk chocolate
Cut the watermelon, the kiwi and the melon into slices. Trace fish using the hen cup in the watermelon and melon. Cut out the outlines to form fish. Cut a star in a slice of melon, cut the grapes into pieces and form circles with the kiwis. Spread 1 pig of blueberry jam on the pie and arrange the blueberries. Crumble the circle of puff pastry and arrange it on the pie to form the sand. Place the star and the fish, form turtles with the kiwis and the pieces of grapes. Arrange white chocolate chips on each fruity animal, melt 1 chick of milk chocolate, draw dots of melted milk chocolate on the white chocolate chips and enjoy!