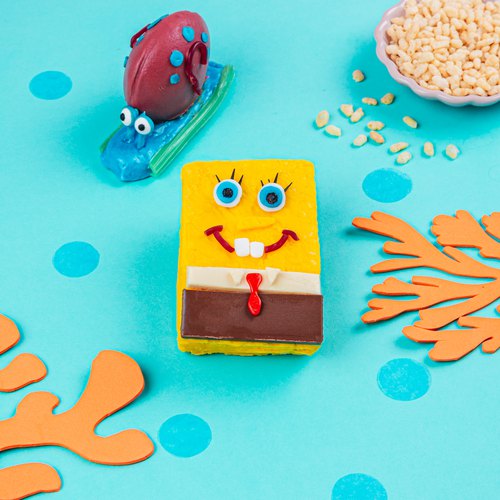 Spongebob Rice Krispies Treats
Spongebob Rice Krispies Treats! Even Gary has joined the fun 🤩🧽🐌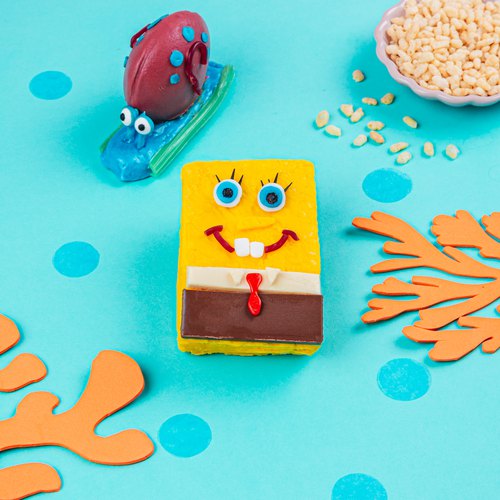 ---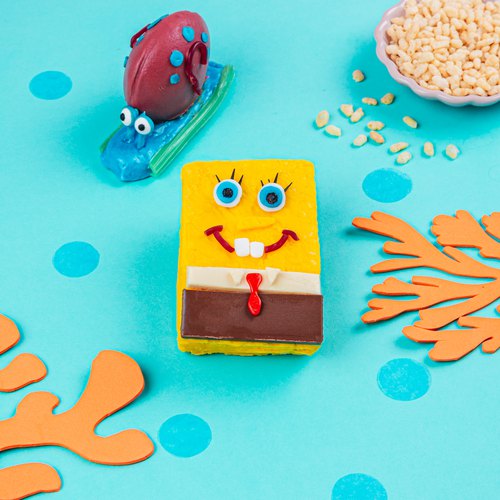 ---
Total time: 31 minutes
Prep time: 15 minutes, Cook time: 1 minute, Rest time: 15 minutes
Ingredients for 4 people
3 cups of rice krispies
1/4 cup of marshmallow fluff
1 cup of orange candy melts
1 apple
Peanut butter
Candy eyeballs
Candy
0.3 cup of pink candy melts
1 ladyfinger
Dark chocolate
White chocolate
1 blue laffy taffy
---
Step 1/3
Place the jar of fluff in the microwave for 30 seconds. In a bowl mix 3 chefs of rice krispies with 1 mouse of fluff. Place in a square baking pan and allow to rest for 15 minutes. Use a sponge as a stencil and cut out 2 rectangles. Place the rice krispies treat on a wire rack and coat with 1 chef of orange candy melts. Dab with a clean sponge to create texture and set aside.
Step 2/3
Cut 2 sides of an apple and glue together with a dab of peanut butter. Place on a wire rack and coat with 1 cat of pink candy melts. Take a ladyfinger and add a line of peanut butter to the top. Place a blue laffy taffy over the ladyfiner. Add a dab of peanut butter on top and add the coated apple. Make 2 small antennas with some laffy taffy and add to the front of the ladyfinger.
Step 3/3
Take some dark chocolate squares to make Spongebob's pants. Use white chocolate to make his shirt and red candy to make his tie. Use leftover rice krispies treat to make the nose and place the candy eyes. Pipe some dark chocolate to make the mouth and white chocolate for the teeth. Serve Spongebob with Gary and enjoy!