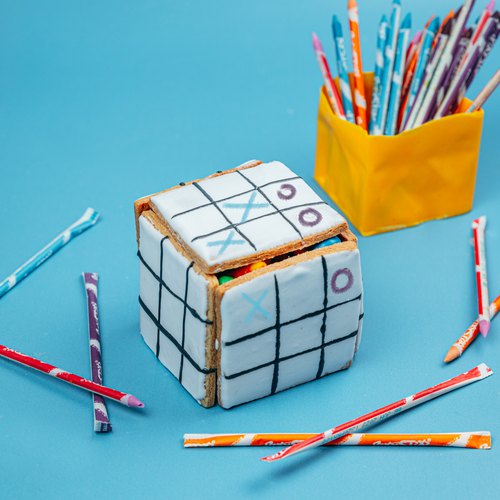 Rubik's Cube Cookie
Rubik's Cube Cookie! Try to solve this dessert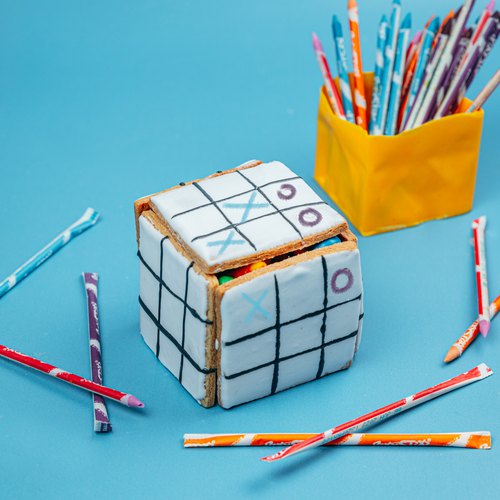 ---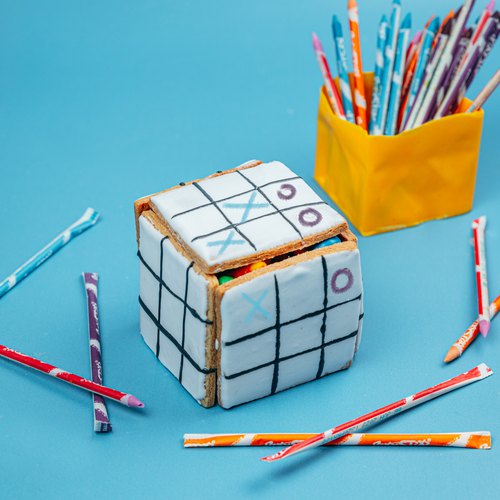 ---
Total time: 15 minutes
Prep time: 15 minutes
Ingredients for 4 people
Pixy sticks
Candy melts
Royal icing
Dark chocolate
Shortbread cookies
Candies
---
Tools
Cling wrap
Cookie cutter
Sharpener
Droppers
---
Step 1/3
First, open four pixy sticks and empty their contents into separate bowls of colored candy melts. Then, use droppers to fill the straw-shaped wrappers with the melted chocolates. Place the filled wrappers in the freezer to set. Finally, sharpen the tips of the chocolate straws using a pencil sharpener.
Step 2/3
Cover the interior of a square cookie cutter with cling wrap. Next, pour yellow candy melts into the mold, ensuring that the sides are evenly coated. Let the candy set, then carefully remove the mold to reveal the candy square. Place the chocolate straws inside.
Step 3/3
Begin by taking six shortbread cookies and topping each one with white royal icing. Then, use dark chocolate to draw a grid pattern on top of the icing. Using royal icing as glue, carefully stack the cookies to form a cube. Fill the inside of the cube with your favorite candy and seal it closed. Serve and enjoy!