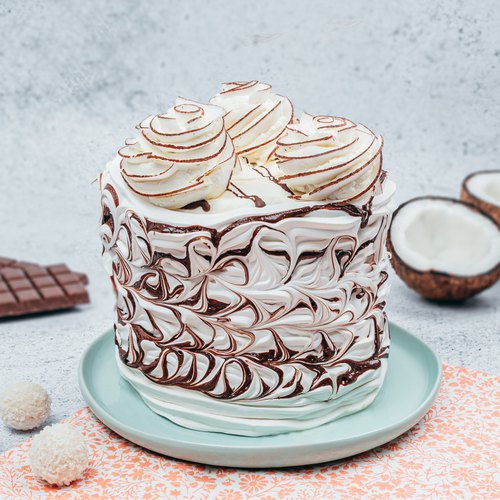 Giant Frozen Mounds
Giant Frozen Mounds! Go nuts for this new dessert 🥥🍫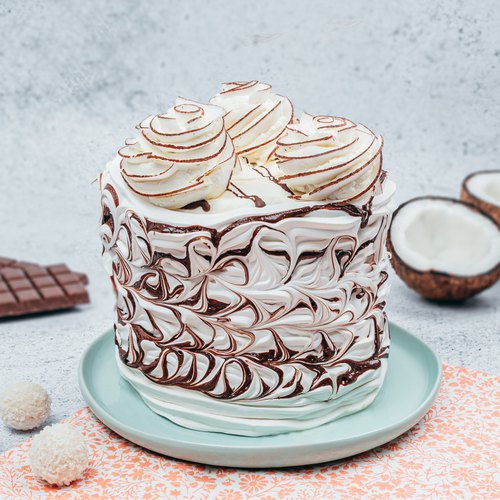 ---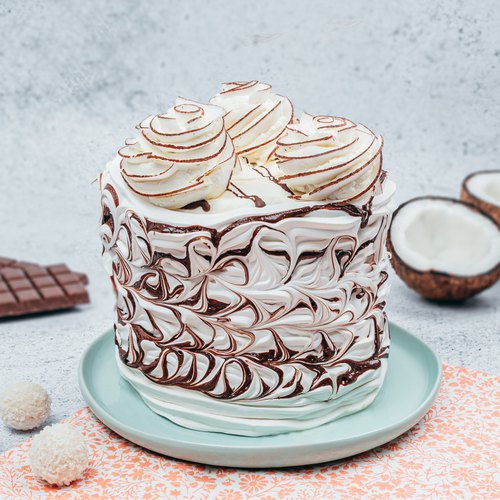 ---
Total time: 2 hours 40 minutes
Prep time: 1 hour , Cook time: 1 hour 30 minutes, Rest time: 10 minutes
Ingredients for 6 people
3/5 cup of egg whites
1 1/2 cups of sugar
3 coconuts
2 oz of dark chocolate
6 coconut truffles
4/5 cup of heavy cream
3 1/2 oz of mascarpone
1 pint of chefclub coconut ice cream
---
Tools
Piping bag
Electric mixer
---
Step 1/3
Mix the egg whites, the sugar, heat in a double boiler until smooth. Mix with an electric mixer for 10 minutes. Cut the coconuts in 2, heat them to release the flesh from the coconut shell. Layer 3 coconut half-shells, place the parchment paper and pipe the meringue around. Melt the dark chocolate, place it in a piping bag, and pour the melted chocolate in a spiral like the meringue. Form circles of meringue and chocolate to form a pattern and bake for 1 h 30 at 210°F.
Step 2/3
Whip the rest of the heavy cream, the mascarpone and place in a piping bag. Cut the coconut flesh into strips. Arrange the coconut bites, pipe the whipped cream on top, place the coconut slices to form roses and refrigerate for 10 minutes.
Step 3/3
Pipe the whipped cream in the center of the meringue, add the Chefclub coconut ice cream, the rest of the melted dark chocolate, the coconut truffles then cover with the whipped cream. Pour the rest of the melted chocolate in lines, arrange the coconut roses and enjoy!