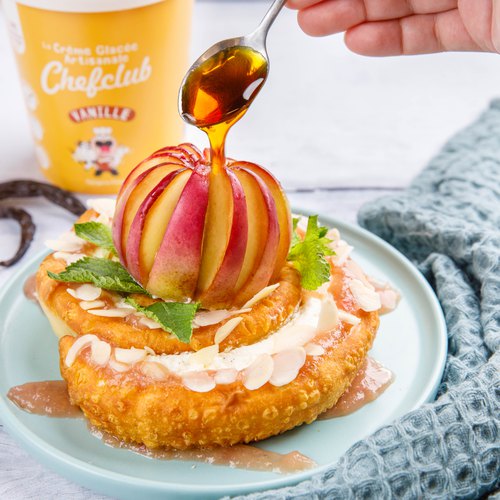 Peachy Dessert Swirl
Peachy Dessert Swirl! We're peachy keen for this sweet treat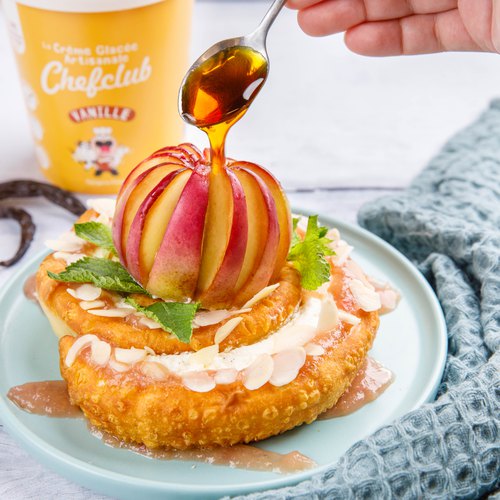 ---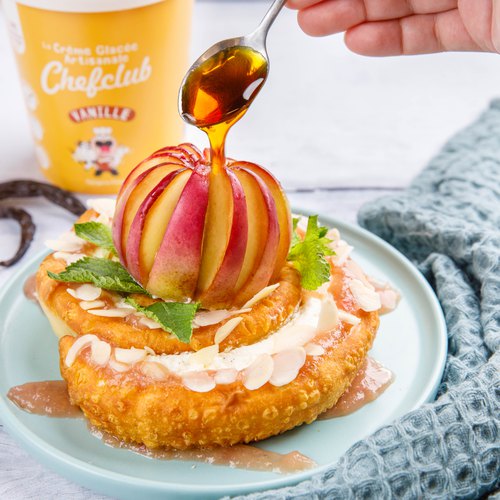 ---
Total time: 42 minutes
Prep time: 35 minutes, Cook time: 7 minutes
Ingredients for 3 people
3 peaches
6 tbsp of sugar
1 puff pastry
3 1/2 oz of mascarpone
4 tbsp of heavy cream
2 oz of sliced almonds
9 mint leaves
Oil
Almond cream
---
Tools
Ziplock bag
---
Step 1/3
Create a decorative pattern on the peaches by making small cuts and removing alternate slices. Transfer the peach pieces into a Ziplock bag and add 2 tbsp of sugar and 3 tbsp of water. Dip the peaches in a mixture of 1 tbsp of sugar and 7 tbsp of water, then arrange them in a baking dish. Cook the peach pieces in the Ziplock bag using a water bath. Bake the peaches for 7 minutes at 350°F.
Step 2/3
Roll out the puff pastry and place the almond cream in a Ziplock bag. Cut off a corner at the bottom and pipe 6 lines of cream lengthwise onto the puff pastry. Cut strips of puff pastry between the lines of almond cream. Join 2 strips together at the ends, fold the strips of puff pastry onto themselves, prick one end with a fork, and wrap the strip around the fork. Repeat for the remaining 4 strips. Fry the puff pastry rolls in hot oil and set them aside.
Step 3/3
Beat the mascarpone, heavy cream, and sugar until stiff peaks form. Retrieve the Ziplock bag containing the peach syrup cooked in a water bath, then gently flatten the bag. Add a line of whipped cream in between the rolls, sprinkle sliced almonds and mint leaves over the rolls. Cut a small corner of the Ziplock bag containing the peach syrup, then drizzle it over the rolls. Place the peach slices on top of the rolls, serve and enjoy!