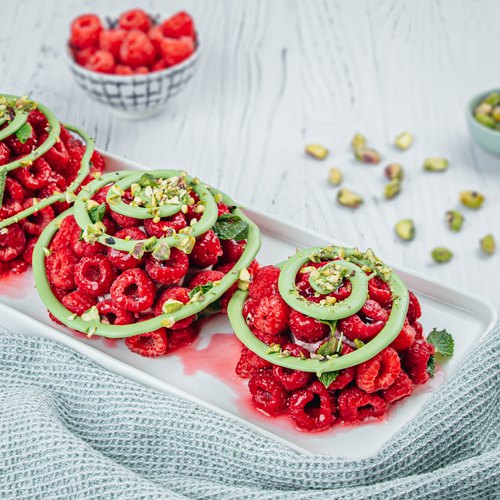 Raspberry & Pistachio Tiramisu
Raspberry & Pistachio Tiramisu! A beautiful and refreshing dessert 🍰💥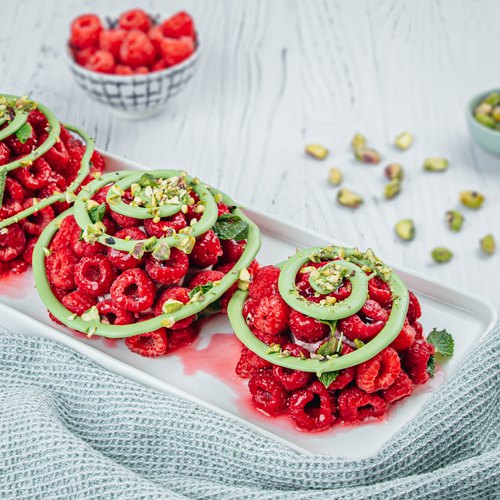 ---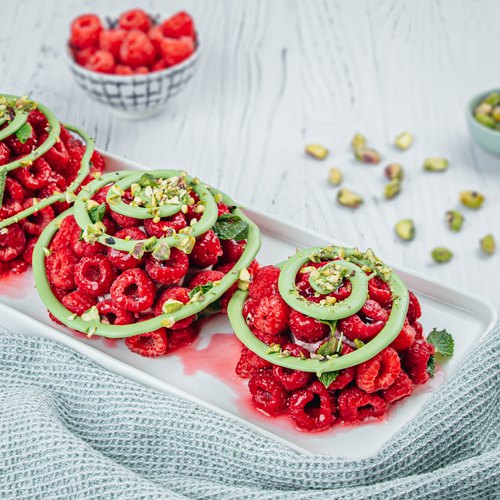 ---
Total time: 3 hours 15 minutes
Prep time: 45 minutes, Rest time: 2 hours 30 minutes
Ingredients for 3 people
20 raspberries
4/5 heavy cream
1 1/2 tbsp of mascarpone
4/5 cup of sugar
0.2 cup of water
4 ladyfingers
3 1/2 oz of pistachios
6 mint leaves
3 1/2 oz of white chocolate
Green food coloring
1 1/2 tbsp of powdered sugar
---
Tools
Piping bag
---
Step 1/3
Whip the heavy cream, powdered sugar and mascarpone to make a whipped cream. Place in a piping bag. Melt the sugar in the water to make a syrup and set aside.
Step 2/3
Place the raspberries in 3 cups, make a space in the center, add the whipped cream, crushed ladyfingers, chopped pistachios and more additional whipped cream. Place in the freezer for 30 minutes.
Step 3/3
Unmold the raspberry domes, pour the sugar syrup over each one, place the mint leaves and set aside. Pour water into a baking dish and place in the freezer for 2 hours to make an ice cube. Melt white chocolate, add green food coloring to dye the chocolate. Place in a piping bag. Draw 3 green chocolate spirals on the ice, sprinkle with crushed pistachios and allow to harden. Place the spirals in on the raspberry domes and enjoy!